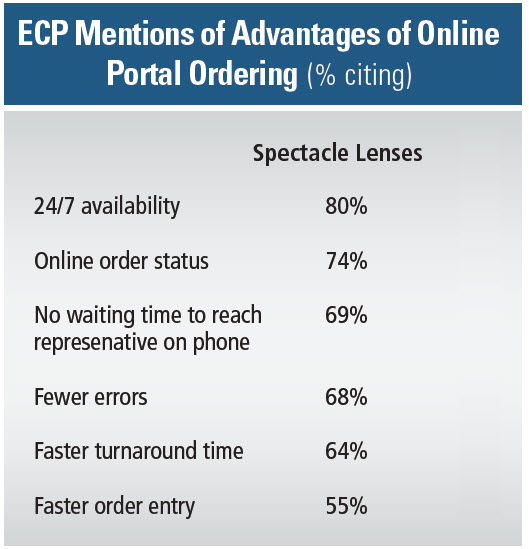 Whether it's shopping online or paying a bill or buying a movie ticket, there's an online service for everything that makes our lives a little easier. But what's really great is that the things that make using online services in our personal lives so convenient have trickled over into online services that we can use in our professional lives too.
Eye care practices stand to benefit from using online services to manage one of their most important day-to-day business procedures: eyecare product ordering. Afterall, an eye care practice will place as many as 2,500 orders every year! That's according to a study we worked on with Practice Advancements Associates.
The study also found that ECPs find these 6 factors to be advantages of online ordering:
24/7 Availability
Meaning they can order at their convenience
Online Order Status
So they don't have to call the lab to check on an order, they can get info online.
No Waiting Time to Reach a Representative
Just like not waiting in line at the movies, ECPs enjoy that they don't have to wait on hold to place an order
Fewer Errors
Online ophthalmic product ordering services are equipped with error-checking features so they eliminate some of the human errors associated with other methods
Faster Turnaround Time
Orders placed online go into processing at optical labs sooner because they skip the phone or fax orders that still need to be entered in the lab management systems. Online systems communicate directly with the lab management system.
Faster Order Entry
It simply takes less time to complete the order when placing online.
When it comes to online services and eye care practices, what may seem like little conveniences are actually adding up to significant savings in time. The study found that using an online ordering service to place an order saved an average of 1 minute per order. That may not seem like much, but if you think of 1 minute for each of the 2,500 orders, that's 2,500 minutes or a whopping 42 hours in time savings. That's an entire week!
Make sure you know the truth about online services for eye care practices! Is your practice working with an efficient ordering process?