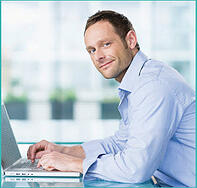 Adopting, replacing, or even just upgrading a practice management system is a big step for an eyecare practice. Using optical software and using it well is critical to create workflow efficiency that has the ability to form and maintain a successful, growing practice.
When you initially think of a practice management system, you probably think of scheduling and basic inventory management; however, these basic features of optician software are old news and in order to stay ahead of the game you want to make sure you're getting as much out of your eyecare practice management software as possible! There are countless features in practice management systems – some you may not even know exist. Many optical software companies like OfficeMate have over 20 courses specifically meant to train clients to successfully use their 'feature-rich' software. Hence, why most recommend using integrations that make the process of implementing and using their software a lot easier.
Ordering prescriptions is likely one of the most time consuming processes at your practice. So it's important to ask yourself, 'Why did I implement optical software in the first place?' Your answer is probably to produce a greater sense of efficiency, because time is money, just like in any other business. The next question you want to ask is 'Does our eyecare practice save as much time as possible?' Below, are just a few of the functionalities of a PM system that can be a huge advantage to your eyecare practice.
Optical Dispensing Functionalities of a Practice Management System
Online Ordering Integration
I don't think we need to stress anymore about how important it is to perform optical dispensing online. By now, we believe (hope) that everyone has said goodbye to their fax machine and hello to the World Wide Web. What's important now is making sure that your online lab ordering is integrated with your practice management system. Your practice management system's ability to connect with an online ordering service couldn't be of more value. Because connecting to an online ordering service can give your practice management system even more functionality than it came with (more on this later), it may even be the most important feature it has!
Centralized Everything
Optical software allows for integrations, and what these integrations do is save time. You ask how? Because they centralize everything for you! Think of it as a department store where you can get everything done in one place. With the power of an online ordering service connected optical practice management system you can do everything from schedule your patients' next appointment to place an order to ANY of your ophthalmic product suppliers from within the system. So there is no longer a need for your optician or office manager to be bumbling around from application to application trying to get things done. Talk about an efficiency booster!
Reduced Duplicate Data Entry
Another great feature of a practice management system is the reduction of data entry. Since you have already entered your patient's information into the system when you are scheduling an appointment, the practice management system makes it so that you don't have to rekey this information in again when you are placing the patient's order. This means you only need to enter information ONCE! If you are leaving your practice management system to place an online order, or calling your supplier to place an order, you are spending additional and unnecessary time reentering information that is already available. As a result of this feature, the amount of errors made in your orders is also reduced because there is less likelihood of your lab transcribing your order information incorrectly if it is automated through the practice management system.
Get the Most Out of Your Optical Practice Management System
Take advantage of the investment you have made in optical software and utilize every key feature you can get your hands on and use the resources you have. Most PM systems offer a database of training materials for you to get started, which can be of value to you even after you've implemented their optical software. Be ready for our next post that will be touching on a few of the advantages you will see in your practice's claim filing processes after implementing a practice management system. After that, if you can say you see all of this happening because of the optical software you've implemented, you are definitely on the right track of becoming a lean, mean efficiency machine!