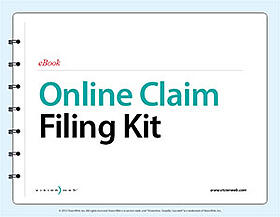 Claims Processing Services can get a bit overwhelming...
So we've made a kit for some assistance!
It's no myth that eyecare practices are constantly looking for ways to make their day-to-day business more efficient, especially when it come to claim processing services. One way we advise our members to boost efficiency within their busy practice, is to take advantage of VisionWeb's online claim filing resources, such as our new Claim Filing Kit! Find out all the information you need to know about online electronic claim filing in one, convenient location.
To make your claim filing research a little easier, we put together an Online Claim Filing Kit with tools and tips to help you better understand the many advantages of switching to online claim filing. And why not make your research about claim-filing fun!? Our Claim Filing Kit is chocked full with a colorful infographic, entertaining eBook, price comparison charts, and many other valuable resources. Make your decision making a little easier by downloading VisionWeb's Online Claim Filing Kit today!
In your kit, you will find:
Our eBook - Claim Filing Fantasy vs. Fact - Electronic Claim Filing can be scary for any eyecare practice, especially those living in a fantasy world. Escape this anti-technology fantasy world and explore all the benefits of online claim filing in this fun eBook.
Infographic of the Lifecycle of a Claim - Learn how efficient and time-saving electronic claim filing can be by visually following the lifecycle of a claim through the different steps!
List of Compatible Practice Management Systems - Find out if your practice management system is compatible with VisionWeb's services by navigating out list of integrated Practice Management Systems!
Clearinghouse Price Comparison Chart - Before choosing the right clearinghouse solution for your practice, it's important to weigh your options to save your practice the most money. Use our Clearinghouse Price Comparison Chart to see claims clearinghouses that will best fit your practice's needs.
FAQs from our Insurance Team - Find out all the answers to our most commonly asked questions and see how VisionWeb's clearinghouse solution will fit into your practice. Not only will you learn what we have to offer in regards to claim management, but you will also see how it can benefit your practice!
And much more!