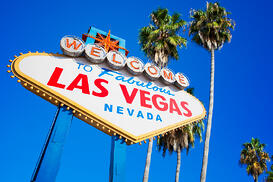 While it sure feels like we were just at Vision Expo East, we are already checking off our to-do list and packing to head off to Vision Expo West in Vegas next week! We always enjoy networking with industry affiliates and interacting with our customers in person at these shows. As you prepare for Vision Expo West, we compiled a list of fun activities for you to check out. Also, find out how VisionWeb will be involved in this year's show!
7 Things to Expect at Vision Expo West
Rebecca Johnson, president of EyeTrain4You took on the challenge of eating healthy on the go and blogged about her journey, successes, and even failures. At the workshop, she will share her experiences and offer tips and advice to women like her.
When: Wednesday, September 5, 4:30 PM to 6:00 PM
Where: Venetian/Palazzo Congress Center, Level 3, San Palo Room 3501
Everyone is welcome to this free event as you network with peers of the industry and win great prizes at the same time.
When: Friday, September 7, 5:30 PM to 7:00 PM
Where: Venetian/Palazzo Congress Center, Level 3, San Palo Room 3502
This year, the Continuing Education Program will be divided into four areas of interest: Business Solutions, Medical/Clinical, Optical Technology, and Contact Lenses. These new categories will make it easier for you to create an education strategy and sort courses to focus on a particular area or create a balanced mix.
With more than 100 speakers representing the most respected and renowned faculties, you are sure to expand your field of vision and be updated on the best practices and care for your patients. Learn more about the speakers and read their biographies here.


5. VisionWeb's Free Info Sessions: How Will the Affordable Care Act Affect your Bottom Line?
Under HIPAA and Affordable Care Act regulations, eye care providers will be required to achieve compliance with several mandates between now and 2016. Join us as we discuss EFT and ERA Management Operating Rules and keep you informed about mandates and offer solutions for submitting claims and receiving EOBs electronically. Each session will last 30 minutes and all attendees who RSVP will receive a $5 Starbucks gift card.
6. Ordering Races
A favorite every year at Vision Expo East and Optometry's Meeting, the race gets you to beat the fastest time for placing an online opthalmic product order through VisionWeb. There are prizes just for participating and also a $50 Amazon gift card for the fastest time of the day!
7. I Love VW Giveaway

Be seen wearing our "I Love VW" badges and receive a gift card from us. It's our way of saying we love you too!

There is an exciting lineup at Vision Expo West this year and we can't wait to meet you there! You can find the VisionWeb booth at MS7053 to learn more about our online product ordering and insurance claims processing services.
Stay updated by subscribing to the VisionWeb Blog!