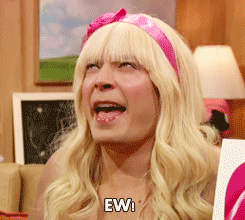 Ew! That's the last thing you want your patients, or future patients, saying about your social media pages. There's a lot of things that businesses can do wrong, and right, on social media. We thought now would be the perfect time for a quick refresher course on social media marketing for optometrists. Chances are marketing isn't the highest priority in your office right now, unless you're a brand new practice, but even if your practice has a sturdy patient base it's important not to ignore marketing all together.
Social media is a relatively cheap and easy way to market your practice, all while building stronger relationships with your patients...as long as you're not doing things that make them say, "Ew!" (If you haven't seen Jimmy Fallon's Ew skit on his late night show - you should check it out!)
But there is a right and a wrong way to run a social media business page. And if you're a practice that's just getting your feet wet in the world of social media, take a minute and check out some tips we have about what not to do on social media. Or, if you've been tackling social media like a champ for a while, double check and see if you'd give yourself an A+ for not making these social media mistakes and making your followers say, "Ew!"
Read More