The patient experience in your eyecare practice is an important one, which is why we are excited to share that we've made several improvements to our patient portal. For a quick overview of the new features, check out the video below.
These new features will enhance the patient experience, build credibility for your practice, and save time for both your patients and your staff. Keep reading to see our favorite new features.
Check Out the New and Improved Patient Portal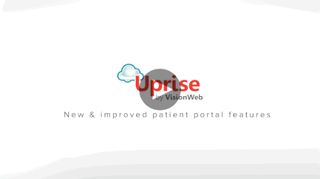 These are just a few of the latest patient portal features the Uprise team has been working hard on. Take a peek at what your patient portal could be missing:
Here's what's new:
Upload patient intake forms and receive signatures electronically, allowing your practice to go paperless

Patients can send and receive secure online messages to you and your staff

Easily send educational videos through the portal to help patients better understand their diagnoses

Patients can download and view their appointment history and prescriptions, reducing calls made to your office
To learn more about the improved Uprise patient portal, watch our video.