You can't manage what you don't measure. Yet, there are multiple optometric billing managers that have to be so focused on pushing insurance claims through the proper channels that they don't have the time to chart, analyze, and track the optical practice's revenue stream from claims. This is creating a massive lack of transparency.
Whether you're looking to make your claim management practices more efficient and more effective, or if you just want more visibility into what's going on, your optometric billing manager needs to track, record, and analyze your claims metrics and compare your practice against state and national averages.
4 Reports Your Optometric Biller Should Produce for Better Claim Management
The Time It Takes For a Payer to Accept a Claim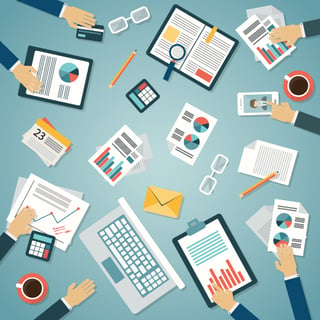 It's easy to record inaccurate information or submit a claim with in a bad ID number or missing information. By comparing your claim acceptance time against state and local averages, you can identify whether you or your optometric billing manager is recording the correct information for the claim. If it takes longer for a payer to accept your claim compared to the average time of eyecare professionals in your state or nation, then you may know to look into the claims to identify any issues.
How Many Exams Did You Perform Last Year?
Comparing your yearly earnings and exam performance gives you insight into how your practice has changed over time and may uncover any activities that your practice can focus on to increase business.
What is Your Monthly Denial Rate?
Examining your monthly denial rates will help your optometric billing manager dig into common errors or claim management problems. By keeping a monthly pulse on what claims payers are commonly denying, you can look for ways to improve and correct the issue to help avoid the error in the future.
What is Your Monthly Income Comparison?
Your insurance claims generate revenue for your practice and help you keep the lights on and invent in new technology to enhance patient care. By comparing your monthly income, you can identify the changes you need to make the next month to generate more revenue.
Having a pulse on how your insurance claims are progressing can help your practice improve your claims management practices and increase your revenue stream. If your billing manager doesn't have the ability to focus on recording and analyzing your claim management and revenue cycle, then seek out a billing service provider with resources available to dig deep into
Does your practice need more transparency into your claims management? Request your RCM Consultation from the VisionWeb insurance claims experts!