EDGEPro, the eye care industry's leading analysis software, is now included with the purchase of Uprise EHR and Practice Management software. EDGEPro provides easy-to-use reports on your practice performance, so you can make smart, profitable decisions.
With Uprise + EDGEPro, you get the tools you need, without any extra work or expense. Keep reading to take a look at some featured EDGEPro reports.



Take Control of your Practice with Uprise + EDGEPro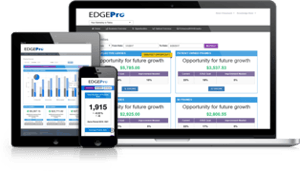 The EDGEPro integration offers Uprise users the ability to easily track over 50 Key Performance Indicators and metrics within their practice data. Since the software is fully integrated with Uprise, results are calculated automatically, and are always available from the cloud-based software.Take a peek at what reports you're missing out on:
Business Overview
EDGEPro Rankings
Opportunities
Sales Summary
Price Point Matrix
Exam Statistics
CPT Breakout
Business Overview
View total revenue coming into the practice and see how much of that total is allocated to optical vs. how much is allocated to clinic. Filter by doctor, vision plan, revenue per exam, capture rate, eyewear sold, and total number of exams completed.
EDGEPro Rankings
Compare how your practice ranks against 4,000 other EDGEPro clients in both business and optical sales. You'll be able to filter regionally and nationally.
Opportunities
See missed opportunities for growth within the practice to determine where money is being left on the table. See your staff side by side to see who has the highest missed opportunity for growth at your location and who may need more training.
Sales Summary
Look at total new business revenue breakdown, collections revenue, and quick statistics like new vs. existing patient exam numbers, contact lens sales, and frame and lens sales. Filter by doctor, staff, vision plan, list, true or patient pricing.
Price Point Matrix
Dive deeper into Patient Owned Frames (POF) and $0 frame sale numbers and percentages to see how much revenue is missed out on. Look at price points that are selling for frames, lenses, and complete pairs. Filter by doctor, staff, vision plan, list, true or patient pricing.
Exam Statistics
Analyze a line graph (year over year trending) of total new business per exam, optical revenue per exam, clinic revenue per exam, patient breakdown and exams per OD hour.
CPT Breakout
View a breakdown of all CPT codes and what percentage of business is being conducted for each code. You can view the monetary value of each code, and filter your results by doctor or insurance plan.
---
Reach out to our team to learn more about how you could benefit from Uprise + EDGEPro.