Our practice management interface was built from the ground up to work seamlessly with our EHR, allowing you to have one comprehensive solution in your practice. Most EHR and practice management solutions weren't designed together, resulting in clunky interfaces and disjointed workflows, but Uprise was built as one cohesive system.
This year has been a big one for Uprise; we put extra work into the PM side of our solution. Our feature-packed solution will enhance the patient experience and save time for both your patients and your staff. Keep reading to see our favorite Uprise features of 2019.
How Did Uprise EHR & PM Improve in 2019?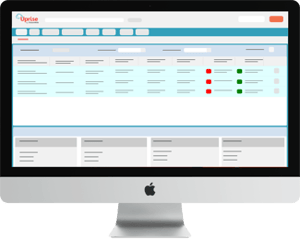 We've made a bunch of updates and improved features that will help make your practice more efficient. Take a peek at what you're missing out on:
Enhanced Patient Portal
New and Improved Scheduler
Click Reducing Workflows


Embedded Frames Catalogs
Enhanced Patient Portal
Reduce patient time in the waiting room and data entry at the front desk by uploading documents that patients can electronically sign prior to their appointment.
Patients can send online secure messages to you and your staff, limiting the need to pick up the phone to get their questions answered. Messages can be sent directly to a defined group: Front Desk, Optical, or Billing.
Send educational videos through the portal to help patients better understand their diagnoses and treatments, reducing questions and confusion down the road.
Patients can download and view a history of their prescriptions along with past medical information, resulting in fewer calls to your office for their information.
New and Improved Scheduler
See your calendar in a weekly view, in addition to your daily view. There is also the option to only display office hours and working days, maximizing your calendar view.
Schedule appointments and create schedule templates in 1-minute increments (5-min, 7-min, 15-min appointments).
Click, hold, and drag an appointment on the calendar to extend, shorten, or reschedule an appointment time for another day.
Search and schedule appointments for patients across multiple locations, a huge benefit for any multi-location practice.
Click Reducing Workflows
Accelerate your charting by only documenting your exam findings and allowing the Treatment Code Mapping to auto-populate ICD-10 codes and custom treatment plans based on the severity of each diagnosis. Add custom "Treatment Notes" that will display in the Assessment/Plan of the Exam.
Efficiently scan documents as PDFs directly from your scanner into Uprise from Documents on the Patient tab eliminating the extra step of scanning to your computer and uploading a saved PDF.
Easily select "20/20 All" to autopopulate "20/20" in all DVA and NVA fields.
Select an 'All Normal' checkbox to quickly document medical history.


View and edit patient appointment notes from the home screen.
Embedded Frames Catalogs
View more than 40,000 frame listings from over 160 manufacturers, bulk import frames you currently carry in your inventory with one click.
Perform a bulk import for Spectacle Lens Add-Ons.
We have added a 'Select All' button to the Catalog. Clicking 'Select All' will check all products on all pages, allowing you to apply a pricing method to all frames selected across pages.
---
Uprise EHR and Practice Management Software comes in two different packages engineered to drive growth, increase communication, and reduce employee training time. Whatever your practice goals may be, there is an Uprise solution that can help you get there.