Opening a brand new optical practice is a huge project to take on. There are large amounts of research, planning, and financing that is involved. One of the most important things to keep in mind when opening a practice cold is your future patients and what they expect from your practice. Taking a look at things from a patient's perspective is a good place to start towards building a practice that your patients will love.
Think of Your Patients When Opening Your First Optical Practice
Location
Deciding where to open your practice is a big, and important, step
in the process. Before choosing a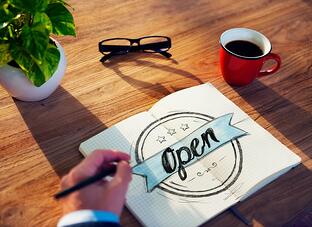 location, you need to do your research. Ask yourself if there is a need for an eyecare practice in the area you are considering. Where is your competition located? When getting down to the specifics of location you also need to consider a location that will be easy for patients to find, and convenient for them to go to. Sometimes downtown locations might only have paid or street parking, which can make it difficult for patients to visit your practice. If patients can't find you, or find it a hassle to get to your practice, it could be costing you revenue.
It's also important to consider the other businesses in the area for which you choose to locate your office. Surrounding your business with the right types of neighbors could be very important to your patient growth.
Name
Naming your practice is one of the most fun parts of opening up, but it is also extremely important. What will patients feel or think of when they hear your practice name? You can go with a simple straightforward name, or something more creative, but no matter what, you need to ask yourself it it will resonate well with the target market in your area. It is also important to consider if the name of your practice will be successful in terms of SEO and website domain online. Getting too creative with your practice name could make it hard to connect with new patients.
Brand
Demographic and target market research is going to be necessary in order to adopt a brand for your practice that will fit in with your patients' expectations. If you are opening in a more relaxed area, your practice can have an easy-going vibe, whereas if you are opening up in a busy, fast-paced city, you might need to have a culture that is more sleek and professional. Understanding your brand and patient demographics will also help you decide what types of frames and products to keep stocked in your dispensary, that way you'll not only offer the kind of service patients want, but the types of products as well.
Staff
Finding the right staff could be one of the more difficult steps when opening a new practice. You want to hire people who will fit in with the practice and atmosphere you are trying to create and who will get along well with your patients. Be patient with the hiring process, it is going to take a good amount of time, but it is worth taking time to hire the right people from the start since they will set the inital tone for your practice. Since we know this one it a tough one, we've got a couple of extra resources to help during the hiring process:
Décor
Decorating a new practice is a balance between finding what you can afford and finding what is going to make your patients the most comfortable. Don't think that you have to pick one or the other; you just might have to get creative to achieve both. Shop around online for deals and look for creative DIY ideas on sites like Pinterest. When deciding what is going to make your patients the most comfortable, go back to the demographic research you used to define your brand. The décor in your office should help support the culture you are hoping to achieve.
Technology
Patients are going to expect the use of technology in your practice. Modern technology for a modern practice is a necessity. Having technology in your waiting room will keep patients entertained and comfortable while they wait for their exam. The types of software and instruments you choose to purchase for your practice will also portray how modern and tech savvy your practice is. You can find a practice management and EHR system that is tablet friendly, making it easier for you to get patients through exams quickly, and allows you to easily show patients information during their exam. Patient portals are also a great feature to help show the tech and modern side to your practice. You'll have to shop around and do research before making any big technology purchases, it is all going to come down to what you decide is best for your practice and your patients.
Marketing
With all of the other financial obligations that come with opening a practice from the ground up, marketing costs probably aren't going to get too much attention. But that's ok, there are plenty of cheap and free marketing opportunities to help get your practice out there to the community. Word of mouth from your patients is going to be your best friend when trying to market your new practice. Social media and SEO optimization will also help your practice market itself online without having to pay a ton for advertisements. These alternatives allow you to still reach patients in a way that is convenient for them and you, without breaking the bank! If you need some help with cost efficient marketing, take a look at these articles:
Opening cold is a lengthy and sometimes stressful process, but remember that in the end when you get to be your own boss, it'll all be worth it. Thinking of your patients first will help your practice be successful in the long run, so take the time now to plan.
Don't miss out on other tips for owning an independent optical practice. Subscribe to the blog!