Your practice has come a long way since it opened, but you still have some fire left in you to continue caring for your community's ocular health. The only problem is, your practice may have outgrown your claims management processes, which could be leaving revenue on the table.
So, how do you know if you've outgrown your claim management practices? This post identifies a few different signs you may experience if your optical practice is outgrowing your claims management efforts and provides a remedy that scales.
How to Tell if Your Optical Practice is Outgrowing Your Claim Management Processes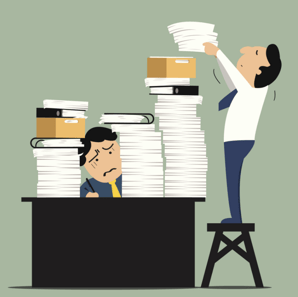 You're Finding Unfiled Claims
It's easy for your practice to get backed up on your claims, especially during seasonal peaks in patient traffic. When your claims go unfiled, it could result in delayed or decreased payments. If you're receiving a small amount of reimbursements from certain payers, it can be an indicator that many of your claims are going unfiled.
One sneaky spot you might want to do some extra digging is on your claim rejections and denials that need to be reworked and resubmitted. While it might look like your claims are all being initially filed, you could be surprised by the amount of claims that haven't made it full circle because of an error that was never reworked.
You're Missing Timely Filing Deadlines
As your claims pile up due to increased patient scheduling, there's a chance that you could be missing timely filing deadlines. Even if you file a claim before the deadline, there's still a risk of it being rejected. If your practice is receiving denied claims with the CO29 code, take a look at the amount of claims that your billing staff is having to work. You may have to scale up your staff and train additional employees, or outsource some of your billing to meet your practice needs.
Your Staff is Hiding Claims
If your staff is so overloaded with a backlog of claims, they may be hiding claims by closing them or writing them off in your practice management (PM) system. To identify this trend, regularly monitor the reporting in your PM software to identify old dates of service being paid for claims that were not difficult or were initially denied.
Whatever the reason your practice has outgrown your billing processes; you can remedy the issue by:
---
Are you interested in seeing how VisionWeb's Revenue Cycle Management can work with your billing staff to help you maximize your claim reimbursements? Request your RCM consultation here.
Editor's Note: This post was originally published on December 2016. It has been updated for relevance and richness of content on March 2020.