You can't manage what you don't measure. Yet, many optometric billing managers must focus on pushing insurance claims through the proper channels and don't have the bandwidth to chart, analyze, and track the optical practice's revenue stream from claims. This creates a lack of transparency and could lose you revenue in the long term.
Whether you're looking to make your claim management processes more efficient and more effective or just want more visibility into what's going on, your optometric billing manager needs to track, record, and analyze your claim metrics and compare your practice against state and national averages by utilizing reports.
4 Reports Your Optometric Biller Should Produce for Better Claim Management
Claim Acceptance Rates Report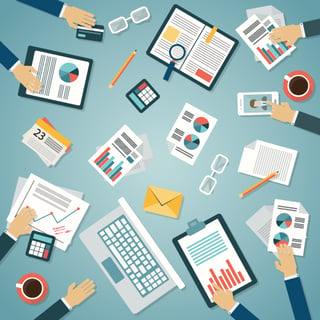 It's easy to mistakenly record inaccurate information or submit a claim with a bad ID number or missing information. By comparing your claim acceptance time against state and national averages, you can identify whether you or your optometric billing manager is recording the correct information for the claim.
If it takes longer for a payer to accept your claim compared to the average time of eyecare professionals in your state or nation, then you may know to look into the claims to identify any issues.
Yearly Earnings & Exams Report
Comparing your yearly earnings and exam performance gives you insight into how your practice has changed over time and may uncover any activities that your practice can focus on to increase business.
If you see your exam rate decreasing or increasing, that can inform whether you need to allocate more budget to marketing and branding, attracting new patients, or spending more on optimizing your patient management system. This report can provide you peace of mind that you're investing money in the right areas of your practice.
Monthly Denial Rate Report
Examining your monthly denial rates will help your optometric billing manager dig into common errors or claim management problems. By keeping a monthly record on what claims payers are commonly denying, you can look for ways to anticipate and correct the issue to help avoid the error in the future.
After you've figured out your main reasons for denials, read our eBook on the Top 7 Reasons for Denied Claims in Eyecare Practices to reduce your denial rate from the source.
Monthly Income Report
Your insurance claims generate revenue for your practice and help you keep the lights on and invent in new technology to enhance patient care. By comparing your monthly income, you can identify the changes you need to make the next month to generate more revenue. These are a few common billing errors that hurt revenue you could fix easily.
Having a pulse on how your insurance claims are progressing can help your practice improve your claim management processes and increase your revenue stream. If your billing manager doesn't have the ability to focus on recording and analyzing your claim management and revenue cycle, then seek out a billing service provider with resources available to dig deep into your data. For more guidance on how to read claim management reports, read our blog here.
Learn more about generating reports and deep data insights through our revenue cycle management (RCM) solution.
Editor's Note: This post was originally published on Oct 11th, 2016. It has been updated for relevance and richness of content on June 21st, 2018.