If your practice has recently decided to adopt an EHR software, the biggest challenge you might be facing now is shopping for the right solution to meet your practice's unique needs. Cost is a big factor when considering a solution, but don't dismiss a solution just because the upfront cost of the software seems high. It is important to think about the other costs associated with maintaining and upgrading the software. Often, the bulk of the costs aren't even the actual software; it's everything else that comes with it and those costs add up in the long run. Today, we'll go through 5 fees that you might have forgotten to consider when you're purchasing your EHR software.
5 Hidden Costs and Fees You Forgot to Ask Your EHR Software Vendor About
Hardware Costs: Some software are only compatible with certain devices and computers, which means that you might have to purchase new computers to run the software. Client-server solutions require you to purchase servers to host your data, and that does not typically come with the cost of the software. To avoid hardware costs, you can look into cloud-based solutions. All you need is access to the Internet, so you'll probably be able to use all the computers you currently have in your practice.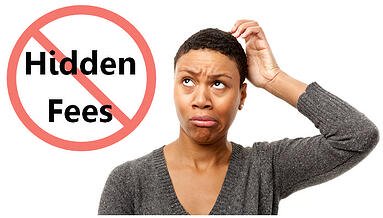 Annual Fees: Many think that purchasing the software means ownership of the software. But upon reading the fine print, they realize that there is an annual fee to pay each year in order to maintain the software license. Read the fine print or ask your vendor's representative about annual fees, because this should absolutely factor in to your total cost of ownership!
Upgrade Fees: Improvements are common and ongoing in the world of software. Chances are that when upgrades are available, you are going to want them. But will you have to pay for upgrades or new features as they become available? Also, to upgrade your software, you might need to upgrade your servers for your client-server solution. Start thinking about how much each upgrade will cost you.
Training & Support Fees: You can't do much with a software that you don't know how to use, right? So how is training and support handled? Some vendors include a certain amount of training and support but charge an additional fee if you want more. Some charge for it every year or even every call you make to customer support. Training is integral to the implementation process. You'll want a vendor to hold your hand through the process, and preferably for free!
Soft Costs: This one is not as easy to quantify, but it's important to consider. How will your practice be impacted when you have to maintain your solution? Will you have to shut the office down in order to install updates or upgrades? Will you need to keep the staff working late in order to participate in updates that happen after hours? The temporary loss of revenue from the slow-down in appointment schedule to maintain your software may be hard to calculate. But if an EHR vendor will take care of all of that as part of the solution, you won't even have to think about it.
There are hidden costs and fees that are associated with an EHR software, so it's important to ask EHR vendors these questions before you purchase a solution.
Worried about purchasing your solution? Download our buying guide to help you through the process and we'll tell make sure you ask your vendors all the right questions!