When it comes to scheduling appointments at your practice, people have many different preferences. Some patients prefer to pick up the phone and talk to your staff, while others are on-the-go and prefer an online option for scheduling appointments. Online scheduling tools are a great way for offering another avenue for appointment requests from patients.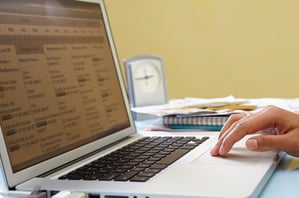 In fact, a recent study by Accenture estimates that by 2019 64% of patients will be utilizing online appointment scheduling.
There are a couple of different options when it comes to letting your patients schedule online appointments. You can use a system that automates all the scheduling straight into your calendar, or you can choose to allow patients to schedule appointment requests that will still require some manual support from your staff. Someone in your office will still review appointment request info, assure that the appointment fits in the schedule, and that the patient has submitted the correct appointment and insurance information. There isn't one method that works best for all practices, and it depends on your optometry software, but having the option for online appointment requests is definitely something that will help your practice in one way or another.
4 Ways Online Scheduling with Optometry Software Can Help Your Practice
You're Going to Get New Patients
I don't know about you, but if I'm looking for a new product or service the first place I look to is the Internet. For patients looking to switch to a new eyecare provider, the Internet is probably the first place they are going to look. And more often then not, they are probably doing online research after work hours when your office is not open for calls. Having the option to request or schedule an appointment online is going to give these new patients the opportunity to reach out to you, instead of searching for the next available practice.
You're Going to Increase Patient Satisfaction
The ability for your paients to have access to online scheduling, if that's what they prefer, is going to boost their overall satisfaction with your practice. They can schedule appointments 24/7, and don't have to make multiple phone calls or be put on hold while you finish waiting on a patient in the office.
As an added bonus, this is a helpful feature for any hearing impaired patients who might find online communication more convenient.
It Will Help Fill in Gaps
Every eyecare practice tries tirelessly to fill in appointment gaps throughout the day. Online appointment requests give you more opportunities to fill in those gaps. Even if its just one filled in gap per week, every last appointment is added revenue for your practice. The ability for your patients to fill in an appointment gap the night before will help put money back in your pockets!
It Will Decrease Manual Work
Depending on how you decide to run your online appointment system, the manual work required by your staff will vary. You may set everything up to be automated which will reduce the amount of work for your staff. Or, if you set up appointment requests your staff might still have to call requests back to confirm and gather all information necessary for the appointment. The best part about this option is that your staff can find their own free time to get back to the requests. That way your staff can be attentive to patients in your office, and make the call backs during the down time.
No matter what your office decides to do, the ability for potential customers to request appointments or information from you online is invaluable. How does your practice manage online scheduling? We'd love to hear about it in the comments!
Stay up to date on the latest news and information by subscribing to the blog.