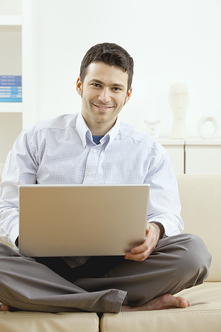 Practice management systems typically are thought to better organize daily administrative processes; however, the optician practice environment is changing dramatically, especially in electronic claim filing management. And after the transition to the 5010 version of HIPPA, standard electronic transactions have required most eyecare practices to implement new optical practice management software or significantly upgrade their current eycare practice management software.
For many eyecare practices, purchasing an appropriate practice management system can be a daunting task. You want to make sure that your selected optical software integrates properly with your practice workflow and contains features your practice needs that will result in a profitable investment that also reduces inefficiencies around the office. Reviewing your practice needs and comparing PM systems is an important part of the selection process.
Switching to electronic claim filing can be scary for many, but don't fear because the advantages are here! Below is a list of several of the key advantages you will see when utilizing electronic claim filing management.
Electronic Claim Filing Management Functionalities of a PM System
Batch Claims
Practice management software is a significant investment and that's why your eyecare practice should be putting it to work, especially for claim filing. Creating batch claim files is one of the many features of utilizing a practice management compatibility with an online claim filing service. You can create, upload, and submit batch claims directly to all of your connected payers, which will reduce claim filing mistakes and redundancies associated with rekeying claims. Watch this video to see just how easy it is to upload claims to VisionWeb from a compatible practice management system.
Patient Eligibility Verification
Higher collections and efficient scheduling and check-in are normally two of the main day to day goals in an eyecare practice. So at the front desk it's easy to see efficiency as saving time. Skipping the eligibility verification process because it's too slow, however, may not save as much time as one thinks, and it actually ends up adding time and labor later when billing needs to resubmit claims for reimbursement. To make eligibility verification more efficient, built in patient eligibility verification is key. Having this resource is bound to make your entire revenue cycle smoother and you a lot happier.
Electronic, Paperless Patient Statements
Having a consistent amount of new patients coming into your eyecare practice is something every practice aims for. And if your not using electronic claim filing, sooner or later that cost that seemed to be a fixed cost of filing cabinets will soon turn into a variable cost, and then you will eventually run out of space for all of these papers. Piles of paper, in general, stress people out, but by filing online you can avoid this and save space, time, and stress. Electronic claim filing offers your practice the ability to store these statements right inside your practice management system. Now if that doesn't help with the spring cleaning in your practice, I don't know what will!
The ever-changing technological advances might be frustrating for a business, but the simplification of administrative processes ultimately reduces claim filing mistakes and improves the bottom lines of eyecare practices when they implement the right practice management software. These key advantages are just a few you want to make sure exist and are being utilized in your PM System.