If you're like most eyecare practices, you're up to your ears in electronic claim filing work, so it seems like there's no time to take on any extraneous responsibilities. Unfortunately, a lot of practices treat their electronic billing reports as something extra when it isn't. In fact, we think it's one of the most important parts of the billing cycle that you shouldn't skip.
You wouldn't ignore any other step in the billing process, would you? If you did, you would pretty much guarantee claim rejections. But while ignoring reporting doesn't cause rejections on the claims it details, it could cause you to miss something that will result in future rejections or underpayments. Now do we have your attention?
The Importance of Running Insurance Reports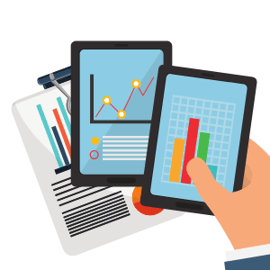 Your claim filing and management solution should be generating these reports for you and making your life easier. Whether you're using Uprise or another EHR software, it is crucial to make sure you have this feature.
The next step is opening them and analyzing them closely so that you can take optimization actions. The reports hold all sorts of juicy information about your claims such as:
How many claims were filed

How many claims were paid

How many claims are delayed

How many claims have been rejected

Reasons for delays

Reasons for rejections
Those last two are the ones you want to focus on. When you look at your reports, you'll quickly be able to identify the more common reasons that your claims have been rejected in the past, which means you can take appropriate measures to correct your mistakes.
You may be surprised how many practices keep resubmitting claims with the same mistake that caused the rejections in the first place. They would have known what to change if they would have taken an hour a month to read their electronic billing reports.
We are on a mission to help eyecare practices think of the reports as a part of the billing cycle, not just a summary of it. If your in-house biller or small family practice doesn't have the bandwidth to run insurance reports, it might be time to consider outsourcing your claims to a revenue cycle management service. It's crucial in getting paid and scaling your practice.
Do you know which reports to run and how to read them? If not, check out our free ebook below for guidance.
Editor's Note: This post was originally published on August 28, 2012. It has been updated for relevance and richness of content on February 5, 2019