As always, the ladies at The Optical Vision Site have something exciting for us to share! It's an exciting contest we would love for you to participate in this holiday season! Read on for more details.
It's that time of year again! The Optical Vision Site and HOYA are having our 3rd annual Holiday Fest With Used Optical Lenses. The contest is easy! All you have to do is reuse any lens (not new lenses) and make a holiday ornament or decoration.
HOYA is giving out 5 FREE Hoya Lens Certificates for the contest winners.
Reuse Optical Lenses To Make Holiday Ornaments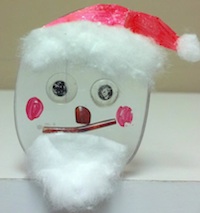 All you have to do is:
1.) Reuse an old lens (Any kind) to make a holiday ornament, wreath, holiday gift item or holiday decor.
2.) Email us the picture(s) with your name and office phone number. Our email is: theopticalvisionsite@gmail.com
3.) Contest runs from November 4- Dec. 15, 2012.
4.) Contest is open to all optical professionals
We will be posting contest images on our Facebook Page
USA and Canada Optical Professionals Only
Have fun- go crazy! We look forward to seeing your pictures! For inspiration, check out our album: Holiday Ornament Contest on Facebook 2012.