Employee satisfaction is a high priority if you want to decrease staff turnover and keep your best employees sticking around. Making sure that your employees are trained well with your practice management and EHR software, and are confident in what they do is going to help keep that satisfaction up. On top of that, being supportive of your employees desire to continue their education and stay up-to-date on the latest trends in eyecare is going to keep them happy, all while making them more valuable to your office. But finding the time and money for training and development can be tricky. So we've got a few different scenarios of how to make it work for you!
EHR Software: What's Your Situation? How to Make Training and Development Work If...
Your Training Staff to Use New EHR Software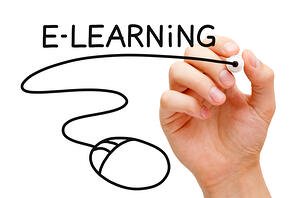 If you've recently purchased new software for your office, there is going to be a training period in order to get your entire staff up to speed. It's not ideal to have to shut down your office in order to get the training done, so look for a software that eases you into the transition. And look for solutions that offer training at your own pace so that you and your staff aren't bogged down trying to get it all done at once.
Perhaps during the training period you bring lunch into the office for your staff so that everyone can meet, ask questions, and get on the same page. Some systems offer live Q&A training sessions, online videos, quizzes, and more. A software that comes with built in training quizzes is a great way to make sure that all of your staff is participating in the training process. Plus, as an incentive, you can offer rewards to staff members for high training scores on their quizzes.
Cloud-based software would allow you and your staff to play around and train on the system from home, and not waste valuable customer facing time in the office catching up with the new system. Training on new software can definitely be a hard transition, but there are ways out there to make it fun and easy without interrupting your schedule.
Your Staff Wants to Continue their Education
Continuing education is important in the world of healthcare, so it's important that you support your staff when it comes to furthering their skills. Not only will it keep them happy, but it makes them more valuable to have in your office! But when it comes to continuing education, it isn't always cheap, so it might be a good idea to have part of your budget set aside each year for staff development. Don't worry, you don't have to send your entire staff out to Vision Expo in order for them to get their education, there are other, more affordable, options out there.
Wouldn't it be cool if your office manager had an interest in taking a marketing or social media course at a local community college? Having your staff cross-train in different areas that you maybe didn't think of before could be a great improvement for your practice!
You Have a New Hire
Hiring on a new staff member is not an easy task. It takes a lot of work to get someone up to speed with the way your practice works. Some training ideas for new hires might be having each staff member set aside an hour during their first week so that the new hire can shadow and learn the roles and responsibilities of each team member. Knowing how their job will impact others in the office is an important part of the training process. It might also be helpful to sit down with your most recently hired employee and ask them if there was anything they would have changed or done differently during their training period. That way you can make those adjustments for the next employee you hire.
It's probably a good idea not to throw your new hire straight into things right away, or you could see some bottlenecks in your daily schedule if they can't keep up with the work. Understanding that there is going to be a learning curve and transition time will be important for keeping your new hires motivated and excited to learn how your practice works!
If you have recently purchased a new EHR system for your practice and you're experiencing some resistance from your staff, check out our eBook to guide you through the process of change management!