Being the owner of your own business, it's easy to want to try and do it all yourself. But, to run an efficient and profitable eyecare practice, you need to learn how to best delegate the tasks in your office to be more productive and to see as many patients as you can each day. For certain personality types, the process of letting go and delegating can be tricky. We've found 5 strategies that will help you let go of certain tasks in your office and how to hand them off to others in order to be more productive.
5 Steps to Become a Better Practice Lead and Delegator
Play to Your Team's Strengths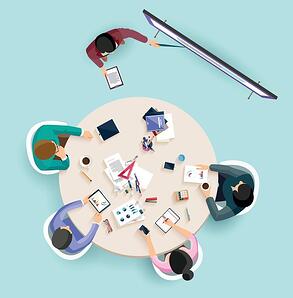 Being the leader of your eyecare practice should put you in a good position to understand the different strengths that each of your employees has. When delegating specific tasks, take advantage of each individual's strengths in order to put everyone in a position to excel and enjoy their new responsibilities. Sometimes you might think it is best to delegate tasks to the worker with the smallest workload, but it might be better to re-evaluate everyone's tasks and assign them evenly across strengths. For example, if you have an employee who is great with numbers they could be in charge of monthly reporting on your practice's important benchmarks.
Provide Detailed Instructions and Training
If you're going to let go of certain tasks in your practice, make sure that you set each person up for success by providing detailed instructions and training on the new responsibilities. A task that maybe comes naturally to you might be more challenging for someone new to take on and learn so make sure that you're outlining exactly what it is you expect this person to complete and how to do it. This will also make it easier in the future for someone new to learn if there is turnover in your staff.
Teach New Skills
Part of helping your team grow in their careers is to teach new skills and help your employees grow their knowledge base. In many cases, skills can be learned, and this is a great way to keep your team motivated and on track for their career path in your office. Teaching new skills may be time-consuming at first, but will be a good investment to make in your practice and with your employees.
Avoid Over Delegating
While it's good to delegate, it is possible to go overboard in order to help free up some time for yourself. Make sure that you're not asking too much, too quickly from your team members that might already have a full load on their plate. It's important to know the difference between delegating work that you should be doing, versus delegating the tasks that you shouldn't be doing. Setting up a clear plan of action from the start will help you narrow down the list of responsibilities that could be better performed by someone else in the office.
Get Feedback & Say Thank You
Feedback is an important part of keeping everyone in your practice happy and on the same page as you're going through changes. Getting feedback on a regular basis will give you the chance to provide assistance or constructive criticism to help the employees better perform the tasks at hand, or you'll have the chance to thank and reward the team for stepping up to the challenge and being a team player. You'll also be able to talk about any changes that should be made to the process to make delegating easier on everyone in the future.
For more practice-building tips, subscribe to the Uprise Blog.