When you go to a dealership to buy a new car, you go in with a vision of what you want. Once you get there, a salesperson drills you with questions, gauges your wants and needs, and then tries selling you a shiny new car. Shopping for optometry software is similar in the sense that it is a large purchase that you will more than likely be using for years, and you should be able to clearly define your practice so that you can find the optometric equivalent of a functional, yet sporty car.
Not everyone knows how to select a practice management system that will be the most beneficial to their practice. No worries, though! There is good news: You can take five minutes to generate a practice profile and a requirements description so that you can ensure that when you buy software it will have all the bells and whistles you and your staff have deemed important, just like a car.
How to Select a Practice Management System That Best Suits Your Practice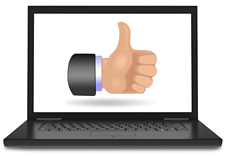 Decide on Necessary Functionalities
What do you want out of your optometry software? Should it include a patient portal? How about access to a clearinghouse or E-Prescribing? Are you planning on participating in The Meaningful Use Program? You have many options when it comes to purchasing practice management software and EHR, the trick is just figuring out exactly what YOU need.
Get Input From Your Staff
Your staff will all be using the software too, so make sure to ask them what they hope to get from a new software. Will it help them to place orders faster and more efficiently, while also benefiting your patients? Do they waste a lot of time each day making phone calls to patients for the following day? That is an easy fix and something that can be taken care of by an automated system.
Another aspect of getting input from your staff on what they want out of new software is determining how comfortable they are with computers, tablets, technology, and making a big change in their routine to become comfortable with a new system of doing things. Making a big change in your daily habits and routine can be difficult for many people, so take time to really talk with you staff so that they understand the benefits they will see from the change.

Flexible Workflow
What works best for your practice? Are you looking for software that adjusts to your workflow, or are you willing to change the way you do things so that it fits with the software? It can vary depending on how set your staff is with your current workflow-- who knows, you might think that you have the most efficient way of working until you try something new!
Still not sure what software is right for you? Check out our buying guide for more tips! You'll even get a template for filling out your own practice profile and requirements description!