Your patients deserve the best care available—that's why they come to see you, right? In order to provide premier services for them, you need to have competitive optometric software, equipped with a patient portal that allows communication between patient and doctor, access to medical records, online scheduling/paperwork, and resources to keep patients educated on their own diagnoses.
How Optometric Software with a Patient Portal Gives Your Practice the Edge
Communication With Doctors
A patient portal should function as a liaison of information between you, your practice, and the patient. Personalized, secure messages can be exchanged between a patient and doctor, meaning that the patient receives a more personalized experience that is ultimately more valuable than a typical office visit. This avenue for communication is also going to help you spend less time on the phone!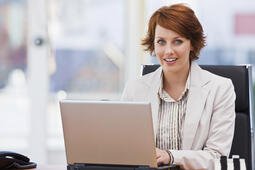 Access to Personal Medical Records and Lab Results
In today's society, everyone is used to having information readily available. Patients are entitled to full access of their own information at any time, and a patient portal allows such features. Your practice can also use the portal to post test results from any lab work that is done, documenting the issue and sharing the results on the patient's own time.
Saves Time during Appointments
Patient portals speed up the interaction of the front office because paperwork can be filled out online prior to a patient's office visit - this means happier patients in the waiting room, and more time to have meaningful conversations with each person. This is made possible while also getting more patients in and out of the exam room, faster, with less time wasted entering information in the system because it will already be there! Patients also have the option to go online from home to update their own personal information (for example, an address change).
Online Appointment Scheduling
Picture this: you are in the middle of a serious project and receive a phone call from someone with a complicated schedule who needs to make an appointment. Some patient portals can help alleviate some of this frustration by giving your patients access to an online schedule where they can view available appointments and select one best suited to their busy lives. And what happens when they forget what time they selected? They can check it online. If that isn't convenient enough, an automated system will even send out text or e-mail appointment reminders so you don't have to!
Educational Resources
Finally, a huge highlight of having a patient portal is that there are plenty of educational materials that your patients can use to reference and learn more about their diagnosis. They have access to videos, pamphlets, and tips for handling their own, personal situations.
Learn more about the patient portal that comes with your Uprise package.