Having easy-to-access reporting and analytics on your practice's revenue cycle management activities enables you, or your biller, to have full transparency into how your practice is performing over time. Without these reports, you're unable to make data-driven decisions and see how your practice stacks up against state and national averages. Access to this information is important, but you also need to know how to understand these reports in order to make the most informed decisions.
Let's rewind quick and go over a quick recap about what we mean when we say revenue cycle management.
Understanding Your Revenue Cycle Management Reports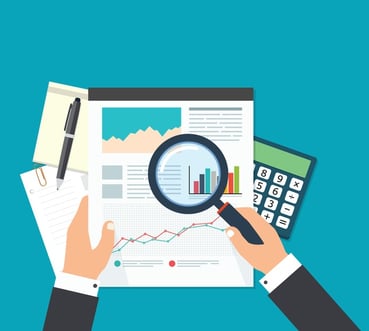 A revenue cycle management service can help your practice manage all of your claims more effectively. The service allows you to take a hands-free approach to your claim management so you can focus more time on the patient care side of your practice. A good revenue cycle management service will efficiently file your claims on the same day of service, quickly resolve rejections and denials, file both your vision and medical claims, and integrate with your current practice management system so you don't have to make any drastic changes in your office. The final piece of the revenue cycle management puzzle is the reporting and analytic information your service should be able to give you access to so you can see the ROI of the service and understand how your practice is performing over time.
Report 1: Income Comparison
When it comes down to it, tracking your claim performance is all about ensuring that you're maximizing your reimbursements and making your practice as profitable as possible. You should be able to ensure that you're generating the appropriate amount of revenue from the exams and services performed in your practice. Comparing your income over time will help you identify important revenue-generating trends in your practice and schedule.
Report 2: Denial Rate
When managing claims in-house, denials are one of the biggest causes of lost revenue. Oftentimes, time restraints and a general understanding of why a claim denied in the first place are two big reasons many unpaid denials eventually have to be written off. With a revenue cycle management service, tracking your monthly denial rate can bring awareness to common errors that may be affecting your practice's ability to generate revenue from those claims. With your monthly denial rate report you'll be able to see if your practice is lowering its number of denials over time, and if not you can more easily identify trends that are leading to consistent denials and how you can avoid them moving forward.
Report 3: Claim Acceptance Duration
With a claim acceptance duration report, you'll get insight in to how long it takes for a claim to process. Ideally, the faster a claim gets paid, the better. Being able to compare your practice's claim acceptance duration over time and also against state and national averages allows you to set baseline numbers and goals for your claim cycle.
---
Learn how to make more money from your claim cycle by downloading the eBook, The Definitive Guide to Making More Money on Claim Reimbursements.
Editor's Note: This post was originally published on June 2017. It has been updated for relevance and richness of content on April 2020.