Every practice has a task that everyone dreads. Ordering ophthalmic products is simple, and should not be that task, and if it is, there has to be a better way than how you are doing it. The most convenient way to place your orders is online because it allows you to receive your products much faster, and with less errors than over the phone or fax. Online ophthalmic product ordering allows your practice to be confident in the accuracy of each request you place.
Why Online Ophthalmic Product Ordering is The Most Practical Method of Ordering
Online order status and tracking
A primary issue with placing orders over the phone or via fax is the inability to efficiently track your orders. Sure, you can have a reference number and call in to inquire about it, but how long will you be sitting on hold? Is it really worth the wait just to hear that it is still processing? When you utilize online lab ordering, you are able to look up the status on your own time.
Reuse Frequent Orders
Loyal customers are great, not only because you build a relationship and mutual appreciation with them, but also because they tend to have the same needs annually. When using online ordering, you can skip several steps by saving and reusing frequently placed orders, even if you do have to make slight modifications in the minor details.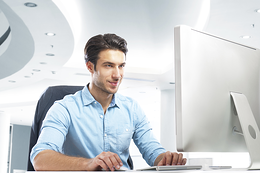 Cutting corners is not usually considered the best way of reaching a goal, but when it means working quicker with the same results, sometimes it is worth it to try some tricks of the trade like arrow fillers, tabbing, and saving favorites.
Merge Multiple Suppliers for Easier Transactions
Wouldn't it be nice to have access to all of your favorite companies and suppliers in one place when placing orders? We thought so, too. Keep your ordering process as quick and painless as possible and order from over 400+ vendors. This means, instead of having a bunch of open tabs and browser windows, you can make all of your decisions at once.
Reduce Errors
Not only do you risk lack of clarity through phone and fax orders, you are also more likely to have a misunderstanding that will lead to an incorrect order. For online orders, absolutely nothing is lost in translation, and automatic error checks help to ensure that the original data you enter is accurate and correct.
Pause and Save if Needed
What do you do when you are halfway through completing an order and a more pressing matter arises? More than likely, you minimize the screen and intend on returning to your order at a later time. Unfortunately, you might lose details or important information for that order. When placing orders online, you are able to save and return to what you started at another time.
It is time to step up and give your practice the best resources you can. If there is something better, why would you settle?