You may have recently noticed a change to VisionWeb's online ordering tool. We've added a new Additional Info button to help make your orders even more efficient! Before we added the Additional Info button, there was a Special Instructions field in it's place. But, we had been seeing more and more users using the Special Instructions field for things that it wasn't intended to be used for.
Users were entering things like dispenser notes, rush orders, or even friendly message to the labs in the Special Instructions field which was actually slowing down their orders because any order that contained text in the Special Instrutions field is flagged for manual review by the lab before being processed. So, if you're going to enter information into the Special Instructions field, it should only be things that need a manual eye on the order which is why we've placed it behind the Additional Info button. (We've also created a new Dispenser Notes field so you can add internal practice notes about an order that won't be sent to the lab. You can read more about that here.)
How and When to Use The New Additional Info Button
Clicking on the new Additional Info button will take you to the Special Instructions field so you can still send needed information to the lab, but remember, it's only for those critical things that you want the lab to manually review before the order is processed.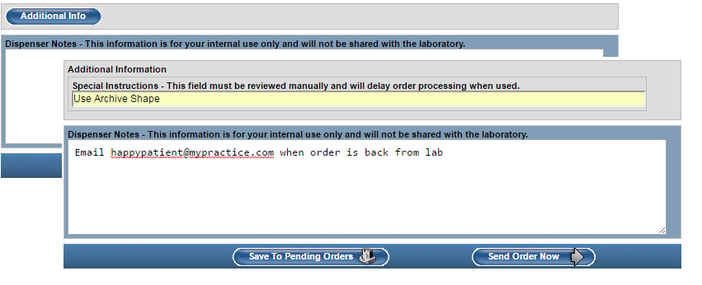 We hope this change makes your ordering experience even better than it was before! If you have any questions regarding the new functionality please contact the VisionWeb customer service team at (800) 874-6601 or email customerservice@visionweb.com.