We've made some changes to our online ordering tool that will make ordering easier for both you, and your lab. We've added functionality that will allow users a place to enter Dispenser Notes for internal use in your dispensary, and an Additional Info button has been added where you will find the old Special Instructions field.
We had been noticing that many users had been using the Special Instructions field for things that it wasn't intended to be used for like Dispenser Notes, rush orders, or friendly messages to the lab. When you enter notes in the Special Instructions field, it actually slows down your order because it's flagged in the lab's system to be reviewed manually instead of being automatically trayed for processing.
With the latest update you can add Dispenser Notes to your orders and bypass the Special Instructions field unless you truly need it. Before now, you didn't have a place for Dispenser Notes to have on file for internal use in your practice. Anything entered into the Dispenser Notes field won't be sent to the lab with your order.
How to Use Dispenser Notes and the Additional Info Button
Using Dispenser Notes
Simply add your notes in the new Dispenser Notes Field at the bottom of the order screen.

You can then review your Dispenser Notes for an order by going to the order status screen of the Track Orders section and selecting the order you want to reivew. Dispenser Notes will be on the bottom of the screen.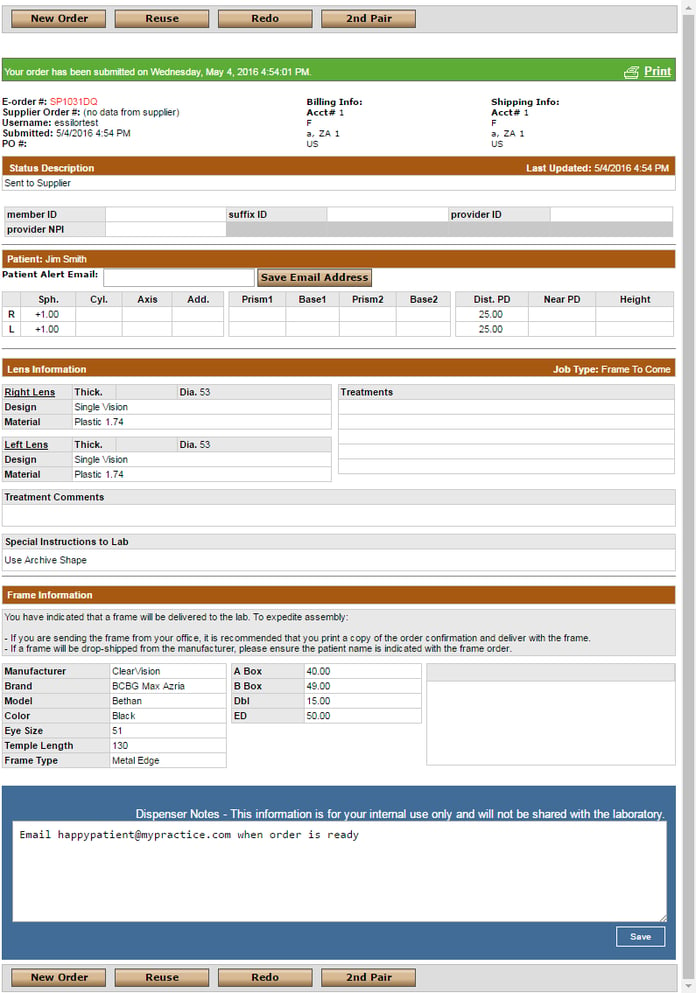 Using the Additional Info Button
Clicking on the Additional Info button will take you to the Special Instructions field so you can still send needed information to the lab, but remember, this is only for something critical that you want the lab to manually review before the order is processed.
Click on the Additional Info button and the Special Instructions field will appear.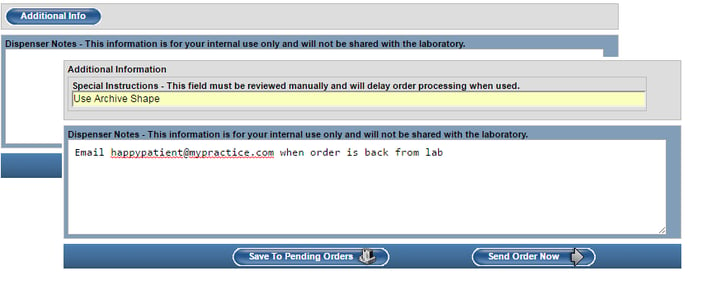 Enter any information that you would like to have the lab review before they process the order.
These changes are designed to optimize the ordering experience for you and ensure the fastest, most accurate order processing possible. Please contact VisionWeb Customer Service at (800) 874-6601 or email customerservice@visionweb.com if you have questions about these changes.