In today's guest post from The Optical Vision Site, we'll look at an infographic that can help explain to patients how much they value their vision over other purchases they make in their daily life. Many patients can scoff at the price of quality eyewear and retreat to the Internet to find a cheaper alternative for their frames and lenses. Being able to show and explain the value of quality eyewear and expert fittings can be tricky. Visuals are a great way to help get the point across to some of your most stubborn patients.
How To Value The Cost of Quality Frames and Lenses
In the everyday scheme of life, sometimes we forget about the bottom line. Next time someone puts off having an annual eye exam, isn't compliant with their contact lenses, purchases colored lenses off the Internet, or buys their eyewear online - consider this infographic.
The quality of this infographic isn't the greatest for printing and posting in your office, but it could easily be re-created in a simple design software, like Canva. In fact, the numbers on this graphic could use an update to reflect current prices and trends. For example, adding the costs of things like Netflix or music downloads might make it more relevant to today's patients. But, this is a good starting point for thinking about new ways to talk to patients about how they value their vision.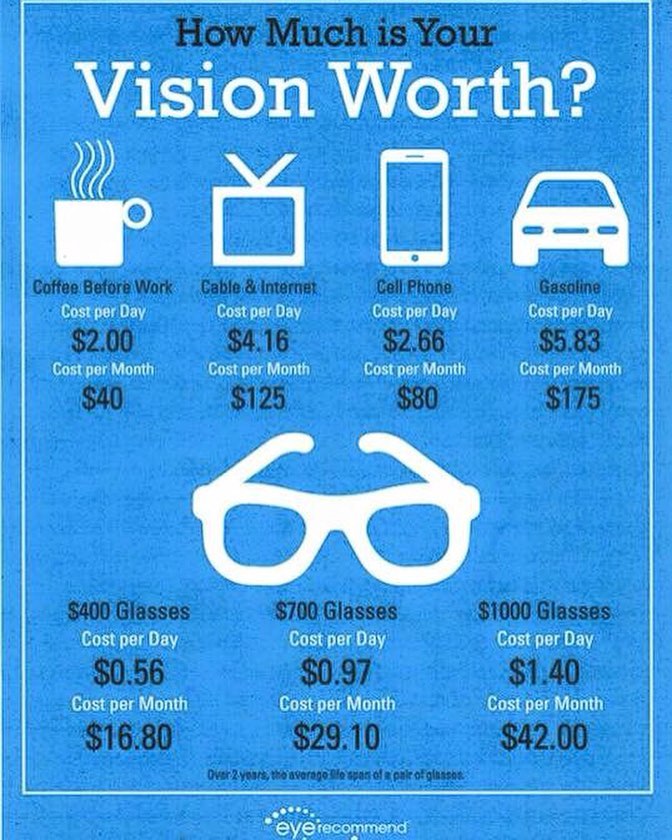 Looking for more great resources for your eyecare practice? Visit The Optical Vision Site today!