A new year is the best time to feel inspired and ready to enact change. That's why we wanted to research eyecare practices from around the world that prioritize their interior design without compromising on functionality.
Maybe you inherited or joined a practice that already had a design in place and you never ended up changing it. If the existing layout, color palette, furniture, and tools aren't as cohesive or fresh as you'd like, you might want to think about how you would change your practice.
We provide eye candy with images of well-designed optometry offices and optical dispensaries as well as ways you can apply their dreamy design to your practice in this blog post.
Designs to Inspire Your Dream Optometry Practice
Eye Eye Care
Eye Eye Care in Seattle hired the right architects to achieve this sleek, minimal design that focuses on delighting the customer. Because they prioritized design and leveraged large windows that face onto a street, they're sure to attract customers who value high-end products and maybe even offer a worthy alternative to trendy online retailers like Warby Parker. You can see more pictures of their office and floor plan here.
EyeTech
EyeTech Optometry in Frisco, Colorado sets out to be a warm, inviting office and optical store that can accommodate a large number of customers at once. The most interesting part of their design is their use of many levels and types of surfaces to display their products. Not only does this improve accessibility, but it adds visual interest that draws a patient into shopping for frames after their appointment. See more images of their office here.
Optometrie Cagnolati
Optometrie Cagnolati may be in Germany, but that doesn't mean we can't fawn over their use of lighting and natural wood. If your practice doesn't have too much natural light, using soft spotlights and recessed lighting for your dispensary is the best way to go. Nobody wants to try on glasses with harsh shadows on their face. Also, Cagnolati's exam rooms have big windows with blinds so that exams don't feel confined and cramped, but can still be dark for specific tests. Although the clean, modern look isn't everyone's taste, it is useful for focusing your patients' attention on your products and any marketing materials you have on your walls.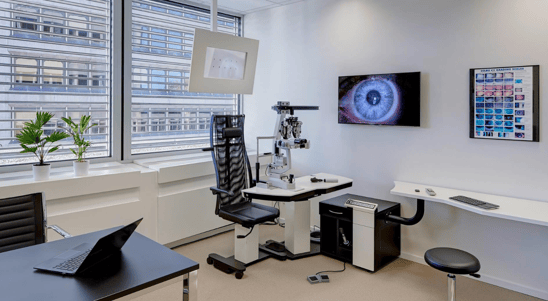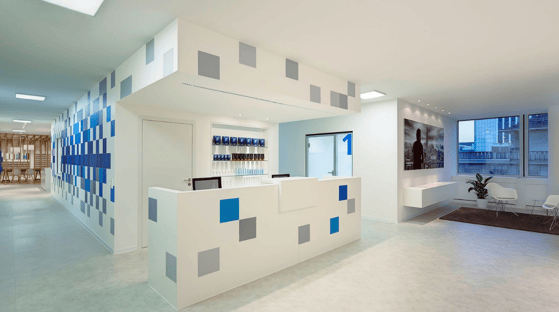 Lower Valley Vision
Lower Valley Vision in Thayne, Wyoming proves that if you have a small optometry office and don't have the budget to change your flooring or ceiling, the best thing you can do is get creative with painting and custom furniture. The large, light-wood front desk and custom-made optical displays here serve many functions without breaking your budget. The desk probably provides ample storage, conceals patient information, and welcomes guests in visually.
Keep your practice updated with more design, marketing, and management tips from the VisionWeb blog. You can choose how often you'd like to receive our updates, too.