Staying on top of industry trends is important in marketing your eyecare practice successfully. Understanding the what's going on in the industry will help keep your practice ahead of the curve. Today we want to share with you a post from the Optical Vision Site that digs into some of those trends. We hope you can use these stats to see what direction the eyecare industry is headed in to stay on top of your marketing game for the remainder of the year.
Optical Marketing Resources: 2015 Eyewear Trends
Over the last several months, we put together a list of eyewear companies comprised of wholesale, retail, and online businesses.While these are far from all the eyewear companies in the world, or all the online companies, our study is enough to evaluate where the eyewear/eyecare market is moving in 2015 and beyond.
With this first year data, we looked at 1,100 eyewear companies that wholesale and retail eyeglasses and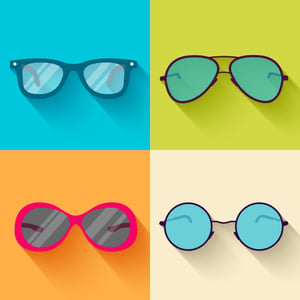 sunglasses. Our eyewear companies listed are comprised of Vision Expo attendees, members of The Vision Council, Google search, and posts we have done.
Our sampling is comprised of:
3.5% is the percentage of countries represented (36 countries)
42.9% of the companies are non-USA (although many have an office in the USA)
56.9% of all listed companies are from the USA
17% of all companies are in California
12% of all companies are in New York
5.7% of all companies are in Florida
3.9% of all companies are in Canada
5.9% of all companies are in the UK
6.2% of all companies are in France
8.8% of all companies are in Italy
Trade Show Attendance
42.1% of the companies have attended a Vision Expo at least once over the last 2 years.
15.3% of all companies listed are current members of The Vision Council.
Distribution
80.3% of all companies are wholesale only (to the best of our knowledge).
41% of the wholesale eyewear companies have an e-commerce presence or have a brick and mortar location.
8% of wholesale companies have an brick and mortar location.
2% of all eyewear companies are owned by an eyecare professional (Optician, Optometrist, Ophthalmologist). Meaning that the ECP is starting to bring in their own products and or starting up an e-commerce site.
3 of the online companies do lenses only.
Marketing
8.3% of all companies have a stated corporate "Give Back Program" including e-tailers.
11.8% claim 'Eco Friendly' as part of their marketing.
1.8% of all companies use and or promote 3D Eyewear.
1.4% of all companies use or promote BeSpoke, custom, or changeable eyewear.
1.6% of all companies are exclusive to kids.
7.2% of all companies offer wood, skate deck eyewear.
98% of all online companies market is sun and sports eyewear.
Crowdsourcing (Indiegogo and Kickstarter) of the 116 companies evaluated in the last 2 years:
Trends
The top eyewear companies in brick and mortar locations and e-tail eyewear are owned by Luxottica (Lenscrafters ,Pearle, Sunglass Hut,1-800 Contacts) and Essilor (Coastal Contacts, Fabris Lane, Costa, Corrine McCormack, FGX). The trend will continue as online companies will be sold and or merged.
Online companies such as Mister Spex, Glasses USA, and Warby Parker will continue to gather investment funding.
Independent (Indie) eyewear business companies are growing their presence in the USA. Much of the growth can be attributed to European eyewear companies coming into the American market, crowdsourced products making some impact, availability of Asian products, and consumer awareness of sunglasses and eye health.
Traditional 'wholesalers' have opened up USA flagship stores with e-commerce. The trend tends to be stronger in the 'luxury' sector (Anne et Valentin, Barton Perreira, Cutler and Gross, Alexander Daas, Illesteva, Dita, Jins, Luxottica). This trend will most likely continue as companies continue to build their brand.
Traditional wholesalers will look to develope e-commerce sites.
Traditional 'e-commerce' are moving to brick and mortar and pop up stores (Warby Parker, Jimmy Fairly, Crap Eyewear, Toms, Monocle Order, 9Five).
Social responsibility and eco friendly products appear to be increasing as global awareness increases and the consumer is responding with their dollars.
Crowdsourced eyewear is making a minor impact. 10% of the listed companies are from crowdsourcing.
e-Commerce is getting tougher. Over 30% of the last list of online companies are not in business anymore or have not updated their website. In addition we are seeing the growth of Boutique and Artisan eyewear.
Other Important Findings

We estimate this is about 5% of the total eyewear market.
The information gathered is from Vision Expo (2014 and 2015), The Vision Council Membership, Google search, and posts we have done. Not included are exhibitors at Optrafair, Silmo, Mido, and other trade shows that do not have a presence in the USA yet.
Not included are most eyewear companies in Europe, Asia, South and Central America, Australia, and Africa.
Not included: most accessory companies, low vision, smart glasses, safety, novelty, and low end sunglasses.
Definition of wholesale/retail/online: We determined if a company showed at Vision Expo (wholesale) and their website showed a Webshop or retail pricing and had a shopping cart (retail and online), that company wholesaled product and retailed.
If a company was an 'online' eyewear retailer and had a dealer log-in or a dealer request form, they also were listed as a wholesale retail.
Majors Included: Macy's, Neiman Marcus, Nordstrom, Amazon, Zappos, Gilt, Shopify, Sunglass Hut (Luxottica), Ilori (Luxottica) Soltisce (Safilo). Not included are sporting goods stores and other majors.
Be sure to check out the Optical Vision Site for the original article, and more posts about eyecare industry trends!