Unprecedented times call for adaptability and creativity, which can help strengthen your practice. Especially when there is no immediate end to government regulations and mandates, it's better if your practice implements changes quickly to mitigate profit loss. Dr. Barker said it best when she stated that "remote patient care has been interesting and has pushed us to be creative and quick on our feet".
That's why we want to focus on the ways you can enact change quickly with minimal disruptions to your staff motivation, sales, and patient satisfaction.
How ODs Manage and Adapt to Changes Successfully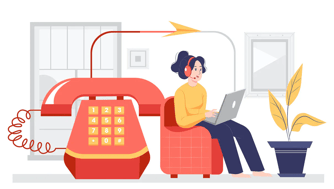 Clear Outline
Transitioning to remote work requires clearly communicating priorities and expectations to your staff. Set up daily team calls as a space to provide updates on patients, procedures, and general practice closure news. Create a shared cloud folder with documents outlining schedules for which employees will be in the office each day, work hours, shifts, and sanitation rules. Setting up the lines of communication gives your staff space to ask questions and raise concerns about reopening or anything else that might be on their mind.
Get Creative
Try to figure out creative ways to take patient care online using telemedicine or accomplishing admin work. If you already have a digital point of sale solution, cloud-based EHR/PM, and online patient portal, you're ahead of the game. If you do need to implement any of these in your practice in order to stay open during shelter-in-place orders, explain the importance to your staff and discuss remote implementation with your vendors. Seeing as everyone is adjusting to the new mandates, vendors and patients will be more patient with workflow changes if you explain ahead of time.
Quick Exams
Efficient exams have always been desirable for both profit and valuing the patient's time. Now, shorter exams mean less opportunity for exposure. Especially if your practice is open for emergency patients, you'll need to adapt the workflow to shorten face-to-face time with patients. Also, adapt your workflow to include the fewest amount of materials, clear off surfaces, and install slit lamp shields or other precautionary measures to your equipment. Make sure you're explaining the importance of efficiency to your staff and choosing tools or software that will work with your practice in its time of need.
Consult our ebook if you need to make big changes in your practice.