Making small updates to your optometry practice website is easy when you're using an intuitive content management system like Wordpress. On a weekly basis, you can easily edit copy, write blogs, and post articles to keep your content relevant and interesting.
However, when your practice goes through a big move, accelerated growth, or staff changes, you might feel it's time to rebrand or change your website. While the process can be daunting, a bit of project management can guide you and your staff through it all.
We're going to go over a few things to keep in mind when overhauling your website.
Project Management Tips for Your Optometry Website Redesign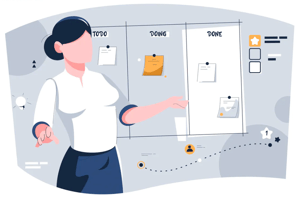 Make SMART Goals
You might have read us talking about SMART goals before. Basically, you'll want to make sure that you have a measurable end goal in mind for the large project. Why are you changing your website? You might be improving your search ranking, modernizing the look & feel, adding new features for appointment scheduling, or something else. Make at least one measurable goal (i.e. Increase views 20% within 3 months) and then you can work backwards on how you will get there.
Prioritize
Depending on your reasons behind changing your website, some tasks will have more immediate need than others. If you're rebranding your logo and design, you'll probably want to hire a designer and developer first. You can use a GANTT chart to map out how long each project will take, determine the order of completion, and assign roles within your practice. Small tasks can add up quickly, so include everything on your chart to insure that your practice's regular workflow doesn't fall behind.
Motivate
Website redesigns take months, so it's inevitable that your employees will start to feel burned out at some point. When the project starts to feel tedious, it helps to remind your staff that a new website allows you to scale your business and grow their careers. Reward your staff with lunch or a bonus at the end of the project. If you're contracting out the work, make sure that your designer or developer are creating something to your satisfaction with weekly check-ins and thorough creative briefs on your end. We have more tips for working with designers in this blog post.
Publicize
A big project like this benefits your staff AND your patients, so let them know what's coming. Send an announcement email, post up flyers in your practice, and create a new Google ad to show off the new website once it's done. Especially when you're proud of the end result, it's easy to get patients excited about a new website. It's also essential that your patients notice you're investing in improving every step of their experience.
---
Still nervous to undergo big change in your practice? Our blog posts can help you. Subscribe now.