Opticians spend almost as much time with patients as the ODs. Hiring a new optician can be nerve-wracking, especially if the candidate is new to the profession. However, with the help of practice management technology and our expert tips, you can set your new hires up for success before they start.
Well-executed training and on-boarding can help make sure your practice's profits and productivity don't suffer from the transition. No matter if your new hires have limited eyecare experience or are seasoned opticians, we've rounded up the best advice, methods, and tools to make sure your new hire fits seamlessly into your practice in no time.
How to Onboard New Opticians Seamlessly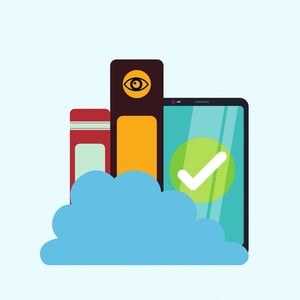 The key to efficient change is planning ahead, but what are some other ways you can make everyone's lives easier when onboarding a new hire?
Office Workflow
Before any employee starts, you should have an office handbook where you detail hand-off protocol, login information, inventory organization, and other administrative procedures that your staff will need to adopt. This is an excellent time to show your new hires your customer personas so that they can get familiar with your patient base. Considering that opticians are also the primary salespeople in your dispensary, they need to know the needs and barriers of patients that come to your practice.
Your optician's first day can consist of getting familiar with patients, meeting the rest of your staff, and locating the equipment they'll use on a daily basis.
Technology & Equipment
Because opticians need to keep track of inventory, sales, and insurance information, It's important that they are technology savvy or have previous experience with practice management software. If they haven't used your software before, start them with training modules and the guidance of another staff member on their first day. Using a cloud-based practice management & EHR software will ensure that your optician has the prescription and patient history they need to work with the patients without having to check with the front desk or OD.
Hopefully your platforms are user-friendly, but make sure to have the staff member closely monitor the optician's process with a patient for at least the first 2 weeks. Old habits are hard to break, but shadowing helps prevent incorrect procedures from becoming routine.
Sales Techniques
Most trained opticians will know how to measure pupillary distance, correctly adjust frames or lenses, and demonstrate a contact lens fitting. However, one of the most challenging parts of their responsibilities is generating more profit through your optical dispensary.
After your new hire has seen your workflow in action, it's imperative to make sure they can use a patient's background to match them with the correct buyer persona and recommend the best products for their lifestyle. In the first week, show them how to apply the sales techniques to different patients that come in. Monitor their success rate and give them tips on tweaking their messaging within the first month.
Your staff is bound to have deeper knowledge on why customers tend to purchase from your practice and why they would look for other options. Make it a team effort to develop a "Sales Cheat Sheet" with these valuable tips.
Reporting
The easiest time to record inventory change and performance is while your optician is seeing patients. Your optician will have to track orders and payments to confirm that patients are receiving their products. Using an intuitive practice management system makes inventory and payment management seamless throughout your staff and office computers.
If you don't have an optometric biller on staff, the optician might help submit insurance claims. Make sure to have your resident expert walk the optician through these processes thoroughly for the first month, because claim management mistakes can lead to profit loss. Using revenue cycle management and practice management software can save your optician time not only in the on-boarding process, but also day-to-day. This way, they can focus on providing excellent customer service. Also, using software solutions can make reporting on insurance claim rejections, sales trends, and patient demographics easier.
Your new optician will be impressed that you're investing your practice's profits into growing the business further, which could also improve staff retention.
How can effective opticians elevate your bottom line? Find out by downloading our free ebook below.