The requirements to work the claim management lifecycle consists of multiple labor-intensive responsibilities that your optometric billing manager must complete to improve the odds of making more money from your claim reimbursements.
Unfortunately, managing insurance claims is complex.
As your billing manager submits claims, they simultaneously receive more rejections that fill their inbox. Over time, some of these rejections can turn into denials. There are many reasons why your claims can be denied. While denials cost you money, receiving them could benefit your practice. Below are a few benefits of receiving an insurance claim denial.
How Your Claim Management Efforts Can Benefit From Claim Denials
It Forces You To Look At Your Claims Management Performance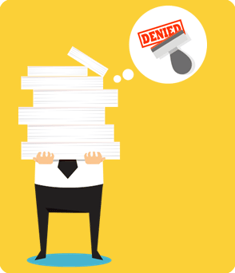 In many practices, a lack of transparency is keeping ODs and billers from understanding their claim management lifecycle. If your practice is collecting a lot of denied claims, or you're not seeing the amount of money you should be expecting from your medical and vision claims, then dig into your claim performance to identify the claim management metrics and reports that could help you increase your claim reimbursement payout.
You Can See The Common Reason For Denials
The reason for a denied claim can vary. But if your biller is unknowingly making the same mistake, then there's a chance to improve their process to strengthen their claim management knowledge to avoid the issue in the future.
Common reasons for claim denials include:
Duplicate claims
Payer doesn't cover the service
Late filing
Bundled payment
Uninsured patient
Coverage termination
Payer does not support frequency of service
For tips on solving these common reasons for claim denials, download this ebook.