The days of using paper to run your optometric practice are over. Optometry software has given practices the ability to optimize their workflow to add more exam lanes and manage the patient experience more accurately and efficiently. With all of the options available, what systems and tools do you need to run an efficient practice?
This post identifies some of the key optometry software solutions your practice needs in order to optimize your office workflow and push more patients through your exam lanes.
Key Optometry Software Solutions for Your Practice
Practice Management and EHR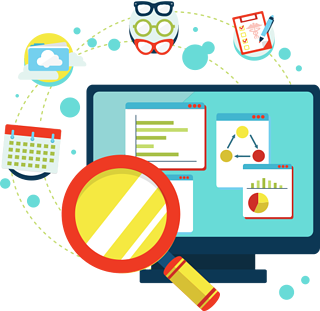 While these can typically be standalone solutions, having a combined practice management and EHR solution in your optometry practice makes it easier for you to communicate to your staff and collect patient data from the front desk throughout the exam.
A solution that gives your staff the ability to view and create complete patient profiles and gives you features to manage complex exams with fewer clicks while automatically capturing detailed documentation on the exam not only increases the level of patient care, it also helps move the patient through the exam lane faster.
Frame Catalogs
The ability to connect to a database that automatically updates your system with frames information reduces manual data entry needs for inventory management. With an online frames catalog, you can view thousands of frame listings and search for items in your inventory, share images of frames to your patients, and see trending reports to identify what your community may like.
Patient Recall System
Getting new patients can be difficult, but the real challenge is getting existing patients to come back. While some patients may like receiving postcards, a large portion of your community may rely on other forms of communication to remind them of upcoming appointments.
An online patient recall system offers an efficient, affordable, and scalable way to get your patients to return to your practice. By automating recall messages to send to your patients through text or email, your practice can increase patient retention while minimizing the amount of work involved.
Patient Portal
Not every piece of software is for your practice to use. Although an online patient portal will benefit your practice by giving your patients the ability to schedule appointments, fill out pre-exam forms, and manage their healthcare data, it's intended user is your patient.
ePrescribing Tool
ePrescribing tools offer an efficient way for your practice to manage your patients' medications. Additionally, an ePrescribing tool embedded in your EHR can help you sync patient information, like any allergies, so you can get instant notifications to when you prescribe medications that your patient is allergic to.
Patient Education Material
Everyone learns differently. When you have to explain a diagnosis to a patient, some may understand what you're saying perfectly, while others may need more time to process the information and from different mediums. With access to digital patient education materials, you can review diagnosis-based learning resources with the patient in the exam room and add it to their patient portal for future viewing on their own time.
Code Verification Solution
Accurately coding exams is an ever-evolving challenge that can hurt your bottom line through rejected or denied insurance claims. Code verification solutions ensure that the codes you're creating are accurate and compliant. With built-in alerts to inform you when there are invalid CPT or ICD codes or same-day service conflicts occur, you can effectively record the codes that get you paid.
Reporting Tools
A robust reporting tool gives you the ability to run operational, financial, audit, and analysis reports easily. View and audit deposit tickets, days sheets, product sales, and cash receipts to gain better transparency into your practice's performance.
Web-based Scheduler
Your schedule should be tailored to your practice while still providing high-level information about the patient's insurance eligibility, exam type, and other patient details. With the capability of customizing the calendar to accommodate seasonal shifts or exam blocks, you can more efficiently manage your time to schedule more patients.
Checkout Tools
Your practice is a business. And as a business, you need tools to manage the retail side of things. Using checkout and billing tools, you can process quotes and view, create, and edit invoices to improve aging accuracy and reduce write-offs.
Claims Management Solution
Submitting, tracking, and correcting insurance claims is a difficult job. With an electronic claims management tool, you can connect to thousands of payers from one place and generate claims, post EOBs and ERAs, and submit claims electronically.
Download the ultimate buying guide for selecting an optometry practice management and EHR software solution for your practice.