Your optometry practice does it all.
From managing payroll and accounting to digital marketing and hiring, you probably feel stretched thin during the busy season. In order to spend the majority of your time providing your patients the best care and attention possible, you might need to outsource some of your responsibilities.
Depending on the size and needs of your practice, most of your responsibilities need to be done in-house. However, there are a few areas where you can trust external experts to take over. Sometimes, it even saves you money and boosts patient care in the long-run. Keep reading to find out 2 areas where outsourcing can be beneficial to running your modern eyecare practice.
Outsource This to Save Your Optometry Practice Time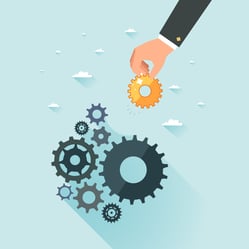 Human Resources
More than just company culture, human resources departments deal with interpersonal conflict, payroll & benefits, organizational structure, and staff management. Your office manager might be overwhelmed handling all of these tasks as well as marketing and other business-growth responsibilities.
Online tools can be useful when you want to outsource more automated HR processes like payroll, timesheet management, job postings, employee handbooks, and more. We recommend checking out Namely, HR for Health, or PurelyHR for a free trial or consultation.
Billing & Coding
When it comes time to bill the insurance companies and input claims, you might find yourself out of your depth. Plus, paying the salary and benefits for an in-house biller or trying to manage your claims yourself could increase your expenses and lead to more denials.
If you outsource your claim management to a revenue cycle management service, you know that insurance experts are handling it. Also, you're more likely to experience a lower denial rate and uninterrupted billing service.
Learn more about the ins-and-outs of outsourcing your claims to increase your revenue through our free Guide to Making More Money on Claim Reimbursements.