Taking care of your practice's billing in-house is tough when optometrists don't have a background in insurance claims. Billing takes time and attention to detail that most of your practice staff doesn't have the bandwidth for unless you have a dedicated biller. However, we're aware that finding and fairly compensating an experienced biller is tough and expensive. How about hiring an expert?
We want to examine two options you have if you've decided to trust experts outside of your practice: consultants and outsourced billing. Let's see how they compare.
Comparison: Eyecare Billing Consultants and Outsourced Billing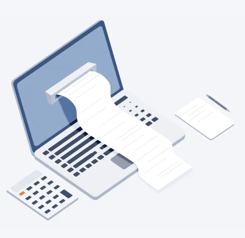 Time
Consultants are hired for a short period of time to show your staff the best way to manage insurance claims and highlight where they might be making billing mistakes. Whereas outsourced billing takes no extra time on your part because the team teaches you how to enter the claims into the system and handles everything from there. This handy infographic shows the lifecycle of a claim when using a billing service.
Overall, the biggest advantage of outsourcing your claims is the large amount of time you save--you spend up to 80% less time on billing when you outsource. Your claims aren't actually being filed in the time you spend with a consultant.
Guarantee
Another difference is the guarantee that your claims process will improve. Some consultants may guarantee a lower denial rate and more paid claims, but it is largely on your team to take the consultant's advice and properly process the claims. If your consultant is implementing billing software in your practice, you might have some technical help, but it's still largely the responsibility of your staff.
An expert billing team is dedicated to completing your billing and will keep you updated along the way to insure peace of mind. They'll make sure to train you on pulling benefits and actually get your claims paid.
Money
You'll pay consultants by the hour and their rate can be quite high. Depending on how much of a grasp you have on your claims, they could be in and out of your practice for weeks on hand. Then, you'll need to either hire an in-house biller or dedicate staff hours to billing and pay for software.
Outsourcing your billing is a predictable monthly fee or percentage of paid claims that you are aware of when signing your contract, so there aren't any surprises. Anyway, the time you save leads to more exams and face-time with your patients, which translates to greater profit.
---
Hear from Dr. Lang about switching to VisionWeb's outsourced billing. You might be surprised at what she has to say.