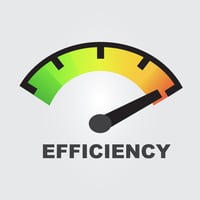 Getting your entire staff on board and excited about using new optometry EHR software in your practice can sometimes be a challenge. But, the adoption of EHR software should help boost your efficiency, reduce errors, and save you money all while providing better patient care for your patients. So while your practice may go through some bumpy days while adjusting your workflow and getting used to the new system, the final result will make it all worth it!
The first thing you can do to help ensure a successful EHR in your practice is to fully assess your practice needs and make sure that the solution you pick is truly right for your unique practice. After you've nailed down the right solution for you, take a look at these 5 habits that could be critical in ensuring the productivity of your staff with your new optometry EHR.
Optometry EHR Habits that are Going to Boost Your Productivity
1. Making the Most of Training Resources
While you might think that you'll be able to get used to your system and know all the ins and outs just after a quick glance or two, that's probably not the case. Make full use of the training resources available for the software, and hold all of your staff to training too. If just one member of your team doesn't keep up, it could affect your entire workflow. Vendor's make training available for a reason, so get organized with a training schedule and stick to it!
2. Workflow Flexibility
Whether you're switching to a new EHR system from paper, or from another system, your workflow is likely to change (for the better)! Especially if you're coming from a paper practice, there are workflow habits that you're going to have to leave behind. Take the time to and analyze your current workflow and make the necessary changes so that your new system can benefit your workflow the most. Set realistic expectations and expect that the way you prepare and process patient visits is likely to change.
3. Being Comfortable with Mobile Monitors
One of the biggest reasons healthcare providers are making the switch to EHR is to provide better patient care. So think about how your workstations can affect patient interaction. Are your monitors set up so that your backs are turned to patients when you're asking them questions? Perhaps you want to implement monitor mounts so that your screens can swivel and allow you to view information together with your patients. Or maybe you want to start implementing tablets in your office. Whatever the situation may be, think about how your exam room set up affects patient interaction.
4. Making Patient Material Readily Available
Another point to be made about providing better patient care is increasing patient engagement by providing multiple avenues for communication and making education material, health info, and treatment instructions readily available for patients through a patient portal. Actively using a patient portal is going to help strengthen your relationships with patients and will help keep your staff off the phone with patients calling in with questions!
5. Full Use of the System Throughout Your Office
If you expect to get all the benefits out of an EHR software, you need to make sure that your entire staff is using it to the best of its abilities. If you're using an all-in-one practice management and EHR solution you should be using it throughout the office from the front end, exam lane, and back end office. Using the system throughout is going to save time as information is securely saved and passed through the system at each point of contact with the patient. So you'll spend less time duplicating data that's already been entered into the system!
If you're looking for more resources about EHR software, implementation, and training information make sure you stay connected with the blog!