We've all experienced being a patient in the waiting room, and most of us will describe the experience as far from pleasant. Now, think about your practice and your patients. If you were a patient in your practice's waiting room, would you be satisfied with your experience? Today, we show you a few ways to keep your patients happy in your waiting room!
3 Tips for ECPs to Make Patients Happier While Waiting
Revamp the Waiting Room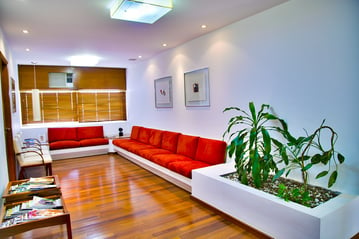 If you read up on online reviews left for a practice, you'll notice that patients tend to comment more on the process of their visit, specifically, wait time and practice ambience, more than the actual exam visit. The look of your practice is where your patient will form their first impression of your practice. What does your waiting room look like? Use this checklist to determine if your waiting room needs work:
Is there actually room enough to sit down? Expect 1-2 tag-alongs per patient.
Are the chairs all clean and comfortable? Sit in one and find out! Stains and unstable chairs should be thrown out immediately.
Is the reading material fresh? Are the magazines patient-friendly or are they copies of Modern Yachting from 1997?
Are the seats facing the wall instead of the display boards? Try facing the seats towards the frame displays to encourage sales.
Do patients have a place to hang their jacket?
Could a child entertain themselves for twenty minutes?
While you're working on your waiting room, you could also take the time to work on the overall look of your practice using our full checklist here.
Use Technology
We live in an on-the-go, fast paced society. So why not give your patients the ability to get things done while they wait for their appointment? Offering free Wi-Fi is a very common practice for any establishment that requires a wait time, from your local café to the car dealership. You could also provide an iPad or computer station in your waiting room.
If your practice offers a patient portal, you can have your patients sign up for an account through the iPad or computer while they wait. There are also services, such as Eyemaginations, that offer educational materials through the patient portal that help educate your patients about their medical condition. They could watch videos about topics that include testing and treatment options, general health messaging, trivia, fun facts, and more. This way, your patients walk into the exam room with a better understanding of basic concepts, so you can both use the visit more productively.
Reduce Patient Wait Time
Last but not least, the best way to keep your patients happy is of course to make your patients not wait at all! We understand that delays happen. Many things can happen throughout the day that throws your schedule off. But for the most part, a smooth workflow directly translates to a smooth patient flow. Have you fine-tuned your workflow to ensure that your practice is juggling the right amount of patients without affecting the patient experience? We wrote an entire eBook about workflow that you should check out here.
Want more tips like these? Subscribe to the VisionWeb blog for everything you need to know about running a successful practice!