All optometrists and their teams have been in a jam where patients have to wait between steps of their appointments. With the current events of 2020, practices might be in a tighter bind after furloughing staff members and implementing stringent sanitation procedures.
Most practices are trying to hire new associates, but find it difficult to procure skilled staff at a reasonable salary. However, we know that certain modern software and tools can address the common causes for bottlenecks and keep everyone safe.
We're addressing the main causes of patient bottlenecks from this ROB poll and outlining how the right software can offer solutions.
How Software Fills in Your Optometry Staff Gaps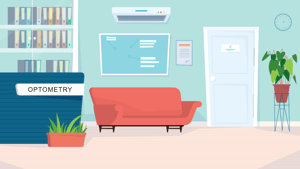 Late or No Show Patients
The top cause of bottlenecks occurs before the appointment even begins: late patients. There are a few policies and fees that can help reduce late patients, but the first step is using effective patient recall messages. Make sure your patient intake questionnaires include a "preferred communication method" question giving the option of email, text, or phone call reminders. Then, implement a recall system that connects with your EHR to automatically send appointment reminders and free up the time for your front desk. These messages can also include important safety instructions or information that the patient would need before coming into your office.
Poor Workflow Planning
Maybe the different roles in your practice aren't able to provide status updates or accurate predictions on how quickly a patient will move through the workflow. It's also more than likely that cleaning your tools and practice between patients is causing a slowdown or forcing you to schedule patients 45 minutes apart. However, if your EHR is cloud-based and integrated, you can communicate patient information between all medical devices and computers in your practice. You can even send prescriptions directly to your optical department from the exam room. During the exam, using Uprise's treatment codemapping feature, ODs can quickly fill in common CPT codes. Furthermore, with the help of a patient portal and online pre-exam questionnaires, you can move through physical appointments more quickly.
Not Enough Staff
This is a tough problem that many practices are facing post-furloughs. Start with cross training staff on responsibilities that make sense to sometimes be fluid or shared. These could be patient checkin and checkout, appointment calendar management, cleaning procedures, or even billing. If you find that your patient demands are still exceeding your staff availability, then it might be time to
outsource your billing
or try to use
embedded tools in your EHR
that make your day-to-day easier. There are great tools that automate your frame board and revenue reports, patient recall, and patient education so that your staff doesn't have to manage everything alone.