Being in the healthcare industry doesn't mean your practice can't take advantage of some of the best tech tools on the market to help you manage your business more efficiently each day.
Modern eyecare practices implement several great online tools and apps to help streamline office workflow communication, increase productivity, and maintain a healthy work-life balance. That's why we put together this list of online tools and softwares that your practice can start using to create a more productive office all around. Stay here to see what made our list.
Online Solutions for Greater Collaboration Throughout Your Office Workflow
Slack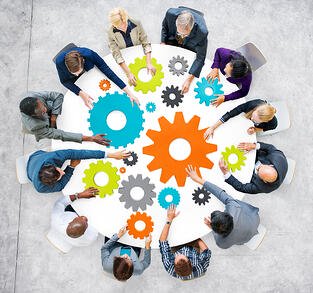 Having a communication system for your entire practice is a great way to keep everyone on the same page and enhance communication across the team. With Slack, you can create different group channels, customize privacy settings, send direct messages, share files, and conduct calls. It can be challenging to verbally communicate throughout the day as everyone in your practice is busy with patients at different times, so having a messaging system in place can help keep those lines of communication open.
Google Docs, Sheets, and Slides brings brainstorming to life with automatic saving, cloud storage, smart editing and styling tools to help you and your team collaboratively work on the same file at the same time for free. You'll have access to your documents from any device and can also choose from a variety of templates to help you create design worthy files. A variety of add-on offers allow you to customize the tool to work better with your team.
Pocket
As a small business owner it's important to stay on top of today's latest business trends, but it can be hard to find time during a day with a full patient schedule to keep up with the news. With Pocket, you can save different articles to your devices so you can come back and read them when you have more time. Pocket is free and let's you view saved articles from your phone, tablet, or computer without an Internet connection.
Stitcher
Since you can't read articles on your drive to work, podcasts are another a great way to keep up to date with the latest business trends. With Stitcher, you can listen to over 65,000 radio shows and podcasts on your phone or tablet - anytime, anywhere. You can also create playlists and discover new content based on your preferences and history. Why not make the most out of your commute on the way to and from the office, especially if you're stuck in traffic?
Headspace
Getting a good start to your day, or taking a quick break when needed, can help recharge your energy and change the mood for the day. Headspace is an app that works as the "gym membership for your mind". With different styles of meditation tracks that can enhance focus, reduce stress, improve sleep quality, and even change your eating habits. You can implement using Headspace for your entire office as an extra perk for your team and encourage them to take 10 minutes a day to learn meditation and mindfulness.
MailChimp
We know that it can be hard to find time for marketing in a busy eyecare practice. Email marketing is an affordable way to stay top of mind with your inactive patients. For many small eyecare practices you can probably get away with using MailChimp's free version. You'll be able to quickly create emails from templates without needing expertise in coding or design. Plus, you'll be able to grow your email list, create well-designed messages, and view reporting on the performance of your email sends. Patient recall and communication is a crucial way to retain patients.
Gusto
Managing a team of employees is a job in itself outside of seeing patients. Having a system, like Gusto, that helps you manage things like payroll, benefits, and other HR items will make it easier to manage your office. Before you sign on for a paid version, you can try one month free and make sure the service is what you need for your practice. An all-in-one HR system will save you time by helping you manage payroll and benefits for your entire team, instead of taking up a staff member's time using excel or paper.
Uprise
Last but not least, a comprehensive practice management and EHR solution, like Uprise, will keep your office more productive by being your one stop shop for everything you need throughout a patient encounter. No more managing paper records or flipping between various software systems. With Uprise, you and your team will have everything you need at your fingertips to create an efficient patient visit. From check in to check out, your entire office will be on the same page.
See for yourself how Uprise will benefit your practice by watching this quick video.
Editor's Note: This post was originally published on April 5th, 2017. It has been updated for relevance and richness of content on October 3rd, 2018.