As 2013 comes to a close, we hope that your practice has experienced a great year! There is always room for improvement and if you are looking to get ahead for 2014, here are some of the best
practice management for optometrists
resources that we've come up with in 2013. Catch up on these light but informative reading materials and we would love for you to check out our blog for more resources in 2014!
Our Favorite Practice Management for Optometrists Resources from 2013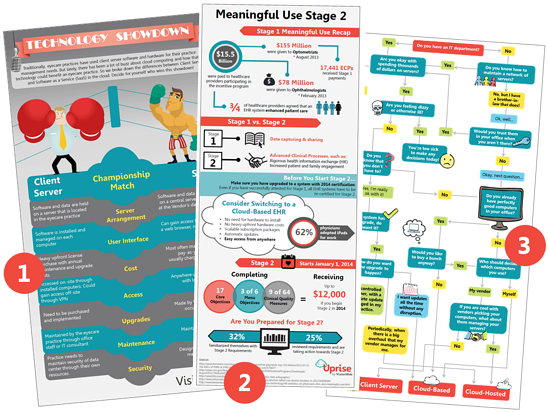 Traditionally, eyecare practices have used client-server software and hardware for their practice management needs. See how cloud computing can benefit an eyecare practice and fulfill those same needs, and see the difference between client-server and cloud-based technology and decide for yourself who wins this showdown!
Stage 2 of Meaningful Use begins in 2014 and we want to make sure that you are ready for it. We compare the difference between Stage 1 and Stage 2, and share some interesting statistics about the program.
If you are looking for a practice management and EHR software, you might be overwhelmed by the number of technology platforms to consider. To see what type of solution might be best for your practice, start with our flowchart!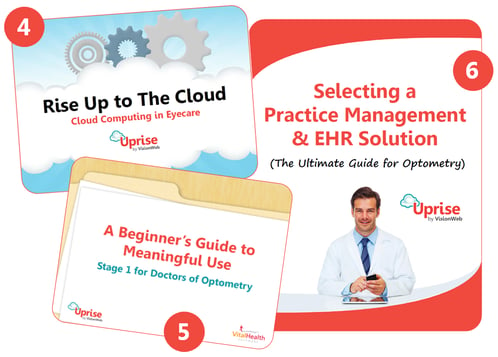 Optometrists are welcome to use cloud computing in optical! You don't need to be a specialist about the latest technology and gadgets to understand the cloud technology that is offered in the eyecare industry. Learn about:
Common Cloud Service Uses
Benefits and Common Concerns
Cloud Computing for Optometrists
Future of Cloud Computing in Optical
Meaningful Use is a popular topic and yet many people are unfamiliar with it. Our eBook will tell you how to get started with Stage 1 today! You'll learn about:
Benefits of EHR Software
Financial Incentives and Potential Penalties
Requirements and Meaningful Use Attestation
Audit Preparation
We understand that every practice has a different set of needs. So, we've put together this eBook to help you prioritize your needs so that you can pick a unique solution that works for your practice. Find out:
How to assess your practice needs by:

Creating a practice profile
Listing your functional needs
Building your requirements description

The different types of technology options

Difference between client-server, cloud-hosted, and cloud-based solutions

How to evaluate total cost of ownership
We are already working on new ideas and resources for ECPs for 2014! Subscribe to our blog to be in the loop!