Avoiding claim filing mistakes should be at the core of an eye care practice, yet it remains a daunting and frustrating task for many businesses to manage. Solutions are well within your reach, you just need to acknowledge and correct a few common claim filing mistakes. The good news is that the recent shift to online claim filing has ushered in a new set of tools that will help you do just that!

This eBook will help you learn how to: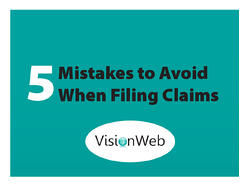 • Spend less time on the phone with payers
• Make filing claims more efficient
• Reduce redundancies of duplicate data-entry
• Follow your money and claims more closely
• Ensure proper coding of claims

Plus, we'll give you tips to help you know what to expect when shopping for a claim filing service.

Get the real benefits of online claim filing.
Download "5 Mistakes to Avoid When Filing Claims" today!