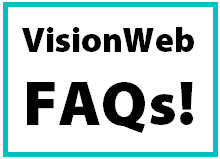 VisionWeb customers have come to enjoy the convenience associated with our claims processing services. But many practices that are searching for a solution have questions about our services and how they will fit in their practice. (And rightfully so!) The truth is, we love the questions because we enjoy being able to tell people all that our service has to offer. Which is why we've put together a list of Frequently Asked Questions about our insurance services!
Get the full list by downloading the PDF, or check out some of the most common questions below:
How do I enroll in VisionWeb's claim filing service?
Simply begin by calling our Enrollment Team at (800) 590-0873 or email sales@visionweb.com. We will review your practice's specific claim filing needs so that we can set you up with the appropriate service package. Then we'll begin the enrollment process.
How long does the enrollment process take?
The complete process generally takes between 30 – 45 days. This includes Enrollment (which is the term we use to refer to paperwork and paperwork processing) and Implementation (which refers to you actually using the solution and completing all training stages). Please note that much of this timeframe is dictated by payer's timing when approving your practice for EDI and ERA.
How much does it cost?
VisionWeb pricing varies by tier and is based on the specific needs of each practice. Packages start as low as $68/month for our comprehensive claim filing, ERA Management, and Real-Time solution.
Do I have to sign a contract?
The choice is yours. Most practices choose to enroll in our 12-month subscription, which provides a pricing incentive and ensures that they lock-in their subscription rate. We also offer month-to-month subscriptions with a small additional fee for practices that aren't comfortable with the longer commitment.
Do you have a free trial period?
Because of the complex and customized nature of claim filing, we aren't able to offer a free trial period.
What insurance companies will I be able to file to?
VisionWeb has over 2,300 connected payers.
Use this link to find a payer by name or payer id number.
My office uses a practice management software, will I be able to use it with VisionWeb?
Our service is compatible with many of the leading practice management systems. View the complete list of systems compatible for claim uploading. In fact, we are compatible for claim uploading with any system that is capable of outputting a Print Image, ANSI 4010, or ANSI 5010 file format. Let us know if you don't see your system on our list.
My office doesn't have a practice management software, can I still use VisionWeb?
Yes! Many of our customers use our service by entering their claim information directly into our system. As long as you have access to the Internet, you can use our service. No other software is required.
I've never filed electronically. Frankly, I'm not comfortable with computers at all. How will I learn all this?
Our solution is easy to use, whether you are a novice or an expert when it comes to using the computer. In fact, if you have navigated to this FAQ, we are comfortable that you will be able to navigate to our system. In terms of using the solution, we provide complete training and will work closely with you until you are sending claims successfully and are comfortable using the solution on your own.
Do you have a training program?
We provide a dedicated representative that will offer complete training for your practice. Our team walks you through every step of the set-up and implementation process. Once you are comfortable using the system on your own, you will still have access to Online Videos and Online Group Training Sessions at no additional charge.
What about customer support? Is that included?
Yes, you will receive complimentary customer support for the life of your account, at no additional charge. Support options include live telephone help, as well as 24/7 online support through an online ticketing system.
Check out our full list of Frequently Asked Questions to get more information. Or, contact our team at (800) 590-0873 if you have any questions that we haven't addressed. We would love to help you out!