Making the trip to New York City for International Vision Expo East is one of those trips that VisionWeb always looks forward to. Getting the opportunity to speak with our customers in person, as well as our eyecare industry affiliates, is something that we really love!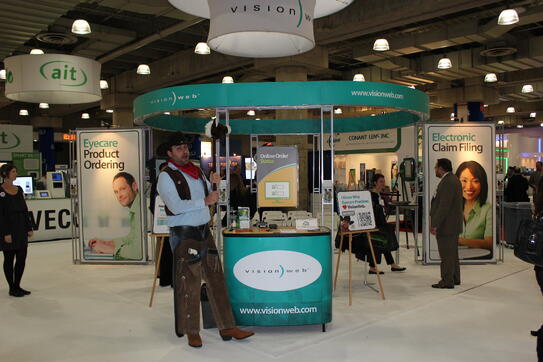 While we were in New York, VisionWeb's Money Madness Cowboy wanted in on some of the fun on the show floor! He was hanging around the VisionWeb booth to challenge show attendees to Ordering Races on VisionWeb. Attendees used www.visionweb.com to try and place the fastest online ophthalmic product order possible. The fastest time of the weekend went to Storm Floyd (@AmazingEyes1) from Amazing Eyes Optical in Foley, Alabama. Make sure to give him twitter love for being such a fast and efficient orderer!
But that wasn't all that was going on in the VisionWeb booth. We also held free presentations on Modern Practices and the ophthalmic product ordering, electronic claim filing, optical practice management systems, and social media techniques that they use to set themselves apart. Attendees who watched the presentation also got a copy of our latest eBook - 5 Reasons Your Eyecare Product Ordering Should Be Done Online. Click here to download it.
We got a bunch of pictures from Vision Expo East and we want to share them with you all! We know clicking through a bunch of pictures on Facebook can be a little tedious, so we created a slideshow so all you have to do is sit back, relax, and enjoy! Watch the slide show below.
During Vision Expo East, The Optical Women's Association, Marchon, and Italian Vogue also held the Wild Eyes & Pleiades Award Ceremony at The Standard Hotel. It was a fantastic event in a truly breathe-taking venue. The Pleiades Award was given to Shirley Platzer-Stocks from the Optical Vision Site. You check out all of pictures from the event on the VisionWeb Facebook page, or watch the slideshow we put together below.
And, as we all know, any trip to New York City without a little fun would be a shame! With our free-time we had a chance to do a little sightseeing around the City. Check out our slideshow from Rockefeller Plaza, the Today Show, and the Metropolitan Museum of Art below!
Don't miss a single detail, ever! Subscribe to the VisionWeb Blog!