As November rolls in with chilly weather and pumpkin spiced everything, we are ready for Thanksgiving! (as you can see from the fun we had at our Thanksgiving lunch celebration) As we count our blessings this season, we're always thankful for our customers' continuous support. In the spirit of Thanksgiving, we thought we would celebrate by counting down the things to be thankful for with VisionWeb's online ordering service.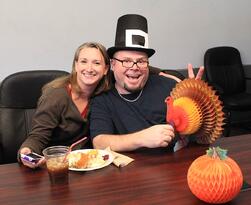 9. Error-Free Eyecare Product Ordering

Tired of getting calls from your optical labs to clarify an order? Well, it starts with you! Stop using the phone or fax machine to place your orders. VisionWeb's online ordering service comes with built-in error-checking features that make sure the order is correct before it goes to the lab.
8. Convenience
With VisionWeb, you can place and track orders online from one location, which means less time wasted going to individual sites to place orders. The service is also accessible 24 hours a day, 7 days a week so you won't be limited by time zones or placing orders only when the lab is open. Everything works according to your schedule!
7. Reduced Time on the Phone with Optical Labs
The average practice saves 34 hours per year by placing orders online compared to phone or fax. And with online tracking available, you spend even less time on the phone tracking orders. And remember those confirmation calls from the labs? Online ordering through an optician ordering software stops these calls. Think of all that extra time your employees could be spending on patients or even a vacation!
6. More Connections with Spectacle Lens Suppliers
VisionWeb is proud to be connected with over 400 spectacle lens, contact lens, and frame suppliers. With our broad network, you will be able to experience the benefits of online ordering, while maintaining relationships with suppliers you already know and trust.
5. Consistent Pricing and Billing
VisionWeb does not interfere with your pricing benefits and billing continues directly from your suppliers. So you get to keep your pricing relationships and buying group discounts, while continuing to do business with suppliers you know and trust.
Recently, we've teamed up with Frames Data to launch our newest functionality with our ordering service. Frames Data Assist gives users the ability to quickly find and retrieve detailed frame information. You no longer have to manually enter frame or frame measurements which eliminates data entry errors, making online ordering quicker than ever.
Most practice management systems have the capability to integrate with VisionWeb. When you order from an integrated practice management system, you reduce duplicate entry errors by using the information in your system to create and submit orders directly to your suppliers. There are many good reasons to invest in a practice management system, but when you do, don't forget to get the most out of its features.
2. Free Online Ordering Service for Eye Doctors
Ordering through VisionWeb is 100% free! If you aren't already convinced with the benefits of our ordering service, we hope that this will seal the deal! I think it's safe to say that it doesn't get any better than this!
1. Happy Customers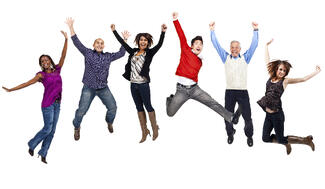 Your customer's level of satisfaction directly leads to the success of your practice. Your customers are sure to be satisfied when they receive their orders 1-2 days earlier than expected. Labs begin processing orders placed through VisionWeb sooner than orders sent via phone or fax. As your practice uses VisionWeb to increase it's efficiency, you will be thankful for more happy customers!
These features are sure to increase the efficiency of your practice and save you time and money! If you do not order ophthalmic products online through us, we hope you see the benefits and register today!