Welcome to our new blog series, 10 for 10: Ten Questions for VisionWeb's Tenacious 10. Here, we interview 10 of VisionWeb's Chiefs and Directors and you'll get to learn more about our company personality, upcoming projects, the executives' take on industry trends, and much more!
Series 1: Ken Engelhart, Chief Executive Officer & President

Today, we debut the series with our CEO, Ken Engelhart. Before we dive into the questions, the one thing you should know about Ken is that he is definitely not as serious as he looks. In fact, he loves joking around and enjoys photo ops! His initial response to our first question about his role at VisionWeb was "giving interns and new hires a hard time." As the intern turned new hire, I've definitely experienced his antics. But jokes aside, get to know Ken's serious side and what it's like being the CEO of VisionWeb.
1. We all know that being a CEO is a fancy job, but what exactly is your role at VisionWeb?
My role includes driving the development and implementation of high-level strategies, making major corporate decisions, managing the overall operations and resources of VisionWeb, and acting as the main point of communication between the board of directors and the corporate operations.
2. What impact do you think VisionWeb has had on the eyecare industry over the past 13 years?
VisionWeb has had a significant impact on ECP office productivity by providing a best in class, electronic product ordering experience - for free. We are the leader in one-stop-shopping convenience when ordering ophthalmic products.
3. How well do you think VisionWeb upholds its mission to always stay progressive in the eyecare industry?
We do a good job. We work hard with suppliers to stay current on new product offerings and the portal enhancements they require. We also believe in continuous improvement, so no matter how good a job we've done, we are always striving to do better.
4. What can everyone expect from VisionWeb in 2013? (Without giving away too much)
For now our customers will just have to wait and see!
5. Well, that didn't really tell us much… So what do you see happening in the eyecare industry within the next few years that gets you excited?
An accelerated push to leverage technology to both provide ECPs increasingly sophisticated and personalized solutions to their patients' needs and enhance supply chain and office management efficiencies.
6. What do you look for when hiring and building a staff?
Enthusiasm, a desire to learn and grow, a strong work ethic, personal integrity, and a commitment to collaborative teamwork, excellence in execution and customer focus.
7. What do you think is the key to being a good CEO, other than being Ken Engelhart?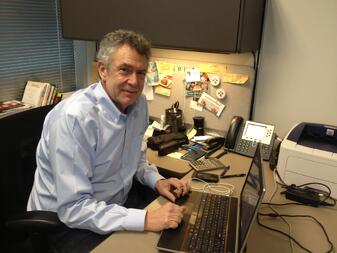 Ask questions, and keep asking them. Listen and learn.
Keep people focused on both long term strategies and the tasks at hand.
Offer suggestions and solutions when necessary. Trust the team.
Encourage adoption of proven principles of high performance organizations.
Urge people to stretch, not be afraid to make mistakes and not to let perfect get in the way of good.
8. What are the biggest challenges of your job and how do you overcome them?
Staying current while thinking two to three moves ahead. I don't think they are ever "overcome". Any position is a work in progress and one needs to keep striving.
9. What do you like most about working at VisionWeb?
The energy and excitement of moving the business forward and watching the team grow and develop in the process.
10. What is the one thing that people should know about you?
That although I like to have fun at work I care about the VisionWeb team and take my responsibilities to them, our customers, and our equity partners very seriously.
It can be a terrifying time when the CEO makes his morning rounds around the office. But not at VisionWeb. When Ken makes his rounds, it isn't about making sure that the staff is working, he takes the time to catch up with everyone and occasionally mess with the interns. We've got a pretty cool CEO!
In the next series, we interview VisionWeb's Marketing Director, Heather Smith, where she will discuss building VisionWeb as a brand, provide marketing tips for ECPs, and much more.
Like our 10 for 10 series? Subscribe to our blog and stay tuned for more!