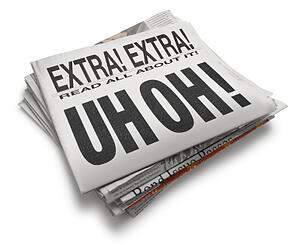 Valentine's Day is in the books, flowers are in water, and all the chocolate you're going to eat is already gone. Let's face it, you're not going to eat those last few stragglers that are filled with, what? Maybe toothpaste? But, love is still in the air and we thought this would be a great time to think about your relationship with optical dispensing. The honeymoon is over with how things used to be and now it's time to move on.
Today, we'll compare the old school and new school approaches to optical dispensing. Get ready to write your Dear John letter to the old way of doing things!
Communication is Key
Traditionally, ophthalmic product ordering is performed by placing ordering over the phone or through fax machines. This type of communication takes time and only works if there is someone on the other end receiving your order. Calls are limited to open hours and there is never a guarantee that the order you're trying to place won't be muddled up on the other end. Any type of manual interaction increases the chance for mistakes, no matter how hard we try to stop it. The supplier has to only mishear one word or misread one character and the order is wrong with now guaranteed wasted time.
Tracking orders follows the same one-on-one communication. Suppliers have to go on an expedition to hunt down sent orders while patients are put on hold. Tracking orders becomes a waiting game between the practice, patient, and supplier.
With VisionWeb's Online Product Ordering solution you can leave all those mistakes and waiting times in the dust. Placing and tracking orders are all done in one convenient location. Online ordering and tracking are available 24/7 from anywhere with an Internet connection and there is less manual intervention, which means less possibility of human error. Each one of VisionWeb connected suppliers has control of their own online catalog, so you won't be able to place an order that the lab can't make! And best of all, VisionWeb users typically receive orders 1-2 days earlier when ordering online, as compared to phone and fax orders.
The Little Black Book
Looking for suppliers to connect with on a late Friday night? Originally that's what your little black book of contacts is for. Flipping through several pages to dial countless numbers, or even visiting multiple websites to place orders with your suppliers. Most of your time is spent on the phone playing with the cord (old school isn't it?). VisionWeb is connected with over 400 laboratories and they can all be reached in one place online, so all that phone time isn't necessary. This will save you a good amount of time and effort and let you pull out your own little black book for that Friday night.
Using the Same Old Lines
Single order placement is the tool of the old school in placing orders. The same ordering information is transcribed again and again, and a good amount of time is spent doing something that's been done 100 times before. With Practice Management System Integrations time spent on duplicating orders is eliminated. By using an ordering integration, information already in your practice management system is used to create and submit your orders and it's done all within your practice management system. Not only will this save you time, but you can rest easy knowing your order will be accurate when sent to your suppliers.
Time to finalize that breakup! Once you are free of the old style of optical dispensing you can puff up your feathers and show the world the brand new you!