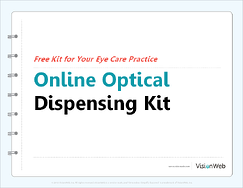 Convenient Ordering Within Your Eyecare Practice Management Software
If you have yet to implement online optical dispensing into your practice, you may be a little behind the curve. In this case, it may seem easier to just keep doing what you're doing, but in the long run that will only hurt the efficiency of your practice.
And clinging to those old habits shouldn't be an option if you want to compete.
Online optical dispensing will open your eyecare practice up to a world of resources you may not have even considered or took into account. And as we say time and time again, getting started is always the hardest part. So we've got a treat just for you! We have put together an optical dispensing information kit, full of optical dispensing tips and tools to help you understand the benefits that an integrated online ordering service can offer to your eyecare practice.
Here's a sneak peak of a few things you'll find:
VisionWeb's eBook: 5 Reasons Your Eyecare Product Ordering Should Be Done Online
Infographic: Online Services + Eye Care Practices
Test Your Practice: Ordering Efficiency Flow Chart
And much more – including a bonus infographic made in collaboration with Vision Monday!
So what are you waiting for? You've got nothing to lose, except a few inefficient hours every week!