Online retailers have been making an impact on your optical dispensing profits. And unfortunately, more consumers shop online now than ever. Luckily, when a patient enters your optometric practice, you have the competitive edge and face-to-face time with the patient. However, many practices leave the sales strategy to the optician.
By starting the conversations with your patients earlier, you can persuade the patient to not only purchase their everyday eyewear on the spot, but you may also get them to buy accessories or a second pair.
Below are tips on how you can use the exam lane to help improve your optical dispensing profits.
How You Can Increase Optical Dispensing Sales In The Exam Lane
Get to Know The Patient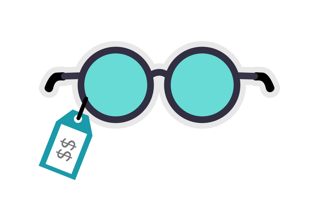 When a patient is in the exam chair, you have the opportunity to get to know their background. Considering that you may only see a patient once a year, it's vital that you understand what's going on in their life to help determine the best course of action for vision needs.
Asking open-ended questions will help the patient open up about how their lifestyle, recreation, and occupation may affect their vision needs. Maybe the patient mentioned that they are planning on going on a river rafting trip, use this information to suggest a backup pair of glasses in case a contact rips or they lose their frames.
Educate The Patient
I once had an OD who carefully explained what he was looking for during my exam. Because of this, I not only followed his recommendations, but I continued to come to his practice because I trusted him.
During the exam, educate the patient on the different tests your performing, what you're looking for, and why it's important to the patient. Not only will educating the patient during the exam help them understand why certain coatings are important to them, but your patients will also learn how a comprehensive eye exam can check for more than vision correction issues.
Additionally, by educating the patient throughout the exam, you demonstrate to the patient that you're an expert, which could persuade the patient into complying with your recommendation.
Explain The Value
Your average patient doesn't know or care what different coatings are called, but they do care about how the coating can help improve their way of life and eye health. Explaining the value of your products and services to your patients by using analogies and language they understand can help convince your patient to get a certain coating or purchase additional frames with computer lenses.
Leverage The Hand Off
Finally, the hand off to the optician can help increase your frame ordering profits if it's a smooth transition and the optician has the information that they need. Using a pager system or practice management and EHR software to have the optician join you in the exam room can create a private environment for you to review and reinforce your recommendations to the opticians and the patient.
---
Learn more tips on increasing your optical dispensary profits by downloading the "4 Weeks To Bigger Profits In Your Optical Dispensary" ebook.
Originally published in Jan 2018