We've discussed the importance of customer service in your optical dispensary, at your front desk, and in the exam lanes many times before. In the age of online reviews, eyecare practices have to be careful to treat every patient with a high level of respect and care.
It's also no secret that a successful practice involves a bit of sales. If you're struggling to keep sales up or gain word of mouth referrals, maybe do a customer service audit of your team.
In order to help you review your practices, we're taking advice from reputable sources on the internet as well as practices who have honed their methods. Keep reading to see what traits and actions make for excellent service.
Qualities of Great Customer Service Representatives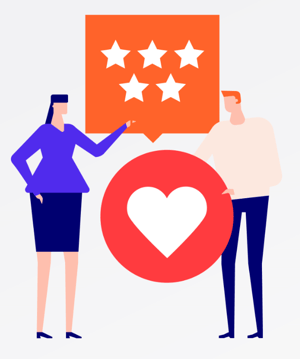 This article from Hubspot outlines 17 general qualities you should look for in customer service representatives:
Empathetic
Creative
Confident
Intuitive
Compassionate
Tenacious
Punctual
Consistent
Personable
Patient
Inquisitive
Adaptable
Optimistic
Responsible
Attentive
Knowledgable
Professional
Are there any qualities that your staff might be lacking? How can you work on developing those? There are team-building and leadership or sales training exercises online you can use to target these specific traits. Or, if you're currently hiring, you can rank the traits in descending order of importance and look for candidates that fit the bill. Now, lets go through which traits are most relevant for the different roles in your practice.
Optician
We'd say that being knowledgeable, intuitive, and inquisitive would be important for all opticians. You'll need opticians to have a solid understanding of your products so they can match the needs of the patient. Also, you'll want to make sure opticians are inquisitive and asking questions about the lifestyle, background, and personal taste of each person that enters your dispensary. However, sometimes an optician just needs to be able to intuit what a customer might need, especially when they need space to browse or contemplate the buying decision.
Front Desk Associate
When it comes to addressing a dissatisfied patient, your front desk might bear the brunt of the work. That's why we think professionalism, patience, and being personable could be the top three qualities for them. Of course, you'll want associates that uphold professional conduct when communicating with patients over the phone or email or in person because it might be the first impression of your office. However, the associates also have the opportunity to connect with patients and make them feel comfortable.
Optometrist
Of course, an optometrist has to be many things but optimistic, empathetic, and confident stand out to us. Quality patient care begins with providing accurate diagnosis, but the patient will truly notice when an OD takes an interest in them and delivers information confidently. We also think the OD should instill a sense of optimism for the future of their practice and their patients.
Office Manager
Being an office manager means that you wear a lot of hats, but compassion, adaptability, and responsibility go a long way when managing people. Not only does the manager have to regularly plan out shifts and deal with last minute changes, but they might also be managing inventory and business expenses and a host of administrative tasks. In addition to the managerial side of their job, we think it's important that the office manager shows compassion for the team in their times of need.
Technician
When your job is to be quick and efficient, consistency, attentiveness, and punctuality are key. The whole workflow could be held up if your technician doesn't consistently perform pre-tests in the expected time.
---
Keep learning how to improve your eyecare practice. Subscribe to our blog.