Upselling a second pair of glasses to your patients will help you increase your frame ordering profits. But, this is easier said than done. Good, quality frames are not always affordable to all patients, and many patients struggle to justify purchasing even a single pair of frames. But, if your office workflow is optimized, you can begin the sales pitch early on in the patient visit and help them find a few pairs of frames that align with their budget, comfort, and vision needs.
If your workflow is disjointed, then you're limiting your practice's ability to maximize your frame sales, increase profits, and meet the needs of your patients. Below are a few ways you can improve your office workflow to increase frame sales.
How To Adjust Your Workflow to Increase Frame Ordering Profits
Fulfill the Need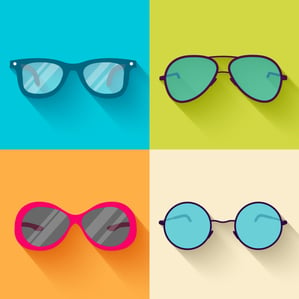 If you're leading your sales pitch with price or pushing too hard to add-on the extra frame, your patients are going to notice, and this could cause them to leave your practice without placing a single order. While adding a second pair of frames is great for your practice, you should only push for it if you honestly feel like the patient will benefit from it. This is why it's important to connect with the patient and get to know their lifestyle.
Once you know the patient's lifestyle, you can suggest frames that meet specialty needs, such as:
Computer glasses
Prescription sun wear
Recreational frames
Improve Handoffs
One of the more challenging things to execute in an optical office workflow are the patient handoffs. Patient handoffs from the front desk, to the optical technician, to the OD, and then finally to the optician can get complex. If the transitions aren't smooth, feel forced, or increase the amount of time a patient spends in your office, then the chance of a patient wanting to spend more time trying on multiple frames is slim.
When it comes to handing off your patients from the exam room to the optician, you want to make the transition as smooth as possible while still communicating enough information to help the optician guide the patient to frames that match their vision, style, and comfort requirements. Some different ways you can ease the optical hand-off include:
Patient to optician on the optical floor
Bring the optician into the exam room
Optician sits in during the exam
Front desk coordinates the handoffs
Price Reasonably
Online retailers are making it difficult to price your eyewear while still earning some profit. While you may have buy-one-get-one promotions, these might not be enough to convince a patient to purchase frames from you. Play around with different pricing models to find one that works with your patients, aligns with online competitors, and offers a profit margin.
Increase Motivation
Sometimes, the only thing you need to do to optimize your office workflow and increase frame ordering is to motivate the team. Offering extra incentives that motivate your team to work towards sales goals is a great way to build teamwork, create accountability, and increase frame sales in your practice.
To keep motivation up, add monetary bonuses, extra time off, or throw a party for when quarterly sales goals are hit.
Looking for more ways to achieve bigger profits from your dispensary? Download this 4 week guide to get new revenue generating ideas.